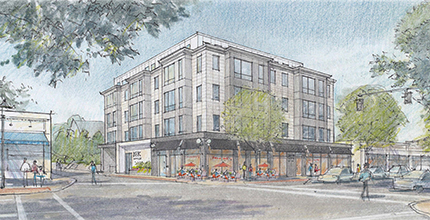 Brookline, MA Kaplan Construction has started construction on JFK Crossing, a five-story, 42,000 s/f mixed-use building at 420 Harvard St. being developed by Aura Properties LLC. Kaplan is responsible for demolition and construction management for the project, which was designed by Embarc Studio. Construction started in September and is expected to be complete in August 2019.
Named JFK Crossing after its proximity to John F. Kennedy's former family home, the building will feature 25 residential units ranging from studio to three bedrooms, with 25% of the units set aside as affordable housing (40B). The podium-style building will feature two retail spaces on the first floor and 24 spaces in an underground parking garage. Amenities will include bicycle parking, a shared outdoor landscaped patio, and common space.
A three-story commercial building was demolished to make way for the new mixed-use building. Located on an urban lot at the corner of Fuller St. and Harvard St., the building sits across from a municipal parking lot and is adjacent to a single-family home and a kosher grocery store, The Butcherie. Kaplan shored up the house and removed a portion of its foundation to accommodate the new below-grade parking garage for JFK Crossing. To reinforce the foundation of the grocery store on the other side, Kaplan had to underpin it and pour new foundations. The Butcherie will remain operational throughout construction. Other constraints include mature, high-value honey locust trees and a large, high-pressure MWRA water main serving Boston on two sides of the site. A uniquely modified earth retention system was developed and implemented to avoid damaging the roots of the valuable street trees and to protect the water main from underground settlement or deflection.
The main design objective for Embarc was to integrate the strong language of a ground floor retail presence with large spans of storefront glazing and sidewalk awnings which presently line both sides of Harvard St. The ground floor of the building, designed to a zero lot line condition at both Harvard and Fuller Sts., defines the urban edge while the residential portion of the building steps back and away from the street. The residential massing is softened with mixed cladding textures and expressed bay windows paying homage to the residential nature of the building's upper mass, while the brick and glass textures at the building's base are familiar to the context and scale of the neighborhood.
The project team members for this project include:
• Owner/developer: Aura Properties LLC
• Construction manager: Kaplan Construction
• Architect: Embarc Studio
• Structural engineer: Hayes & O'Neill Structural Engineering
• MEP/FP engineer: BLW Engineering
• Civil/survey engineer: McKenzie Engineering Group.
"We're excited to see construction starting at JFK Crossing," said Jonathan Berit-Parkes, director of construction at Aura Properties LLC. "Kaplan Construction knows Brookline well and specializes in working on tight urban sites. We were impressed with their mixed-use and multi-family experience and eagerly anticipate the completion of another successful project."