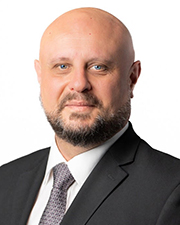 Norwalk, CT According to Union Savings Bank (USB), Kostantinos Kasparis has joined the bank as assistant vice president, senior branch manager of its new full-service branch located at 454 Main Ave.
In his role, Kasparis is responsible for the overall direction of the branch, new business development, and working to build rapport within the community. The new branch will be supported by the bank's Solutions Teams, a group of local specialists that offer customized personal and business banking solutions.
Kasparis, who began his career at Fleet Bank as an assistant branch manager, brings 26 years of experience in the financial services industry to USB. Before joining USB, he was a vice president, branch manager at J.P. Morgan Chase in Fairfield. Prior to that he held several positions of increasing responsibility for nearly ten years at various Wells Fargo Bank locations throughout Connecticut. Most recently he was an assistant vice president, regional branch manager II, in New Canaan.
"Gus is an industry veteran and a great addition to Union Savings Bank," said Marlene Piche, senior vice president branch and business banking. "His excellent management and team-building skills, strong ties to the community, and new business development experience, are great assets to USB and will help us build our presence in Norwalk."
Kasparis earned a bachelor of science degree from Northeastern University, Boston, Mass. He is actively involved in the community and is a member of the Norwalk Chamber of Commerce. Kasparis, who was born and raised in Norwalk, currently resides in Fairfield, Conn.