Shown are Joe Bodio and Steven Kenney
Boston, MA
At the Associated Subcontractors of Mass. Gala on Oct. 29, N.B. Kenney Co. president Steven Kenney received ASM's prestigious Joseph M. Corwin Pinnacle Award, in recognition of his outstanding dedication, leadership, and service to ASM and the subcontracting industry.
Kenney has served in a variety of leadership roles at ASM over the past twenty years, including president from 2000 – 2002; several terms as vice president, and 20 years as chair of ASM's successful annual golf tournament. He has also been at the forefront of ASM's major legislative initiatives, including Prompt Pay, Retainage, Unemployment Insurance Reform, Public Construction Reform, and more.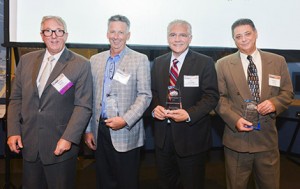 ASM quarter century club honorees
Also at the Oct. 29 event, six companies received a "Quarter Century Award", marking 25 years as members of ASM.   They include: Aluminum & Glass Concepts, Inc. of Wilmington; Apex Corp. of Abington; Commercial Masonry Corp. of Plymouth; Edward G. Sawyer Company of Weymouth; Energy Insulation Conservation of Worcester; and J & M Brown Company of Jamaica Plain.