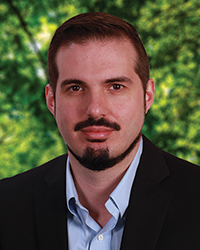 Danvers, MA Alejandro Korda has joined Gienapp Architects as a project designer.
Korda is skilled in schematic design, permitting, design development and construction documentation. Korda has successfully led the design of a variety of mixed-use, commercial, assisted living, municipal, laboratory and residential projects with budgets ranging from $1 million to $20 million.
Prior to joining Gienapp Architects, Korda provided technical design and project management services at other well-respected architectural firms in Massachusetts.
Korda has a Bachelor's of Architecture from Roger Williams University.
"I joined Gienapp Architects because I believe in their philosophy of providing smart, creative design solutions that fit our clients' needs," said Korda. "It's a pleasure to be on the team."
"Alex is a very talented designer and brings excellence in technical detailing, design and project management to the firm," said principal, Dale Gienapp, AIA. "We're thrilled to have him here."