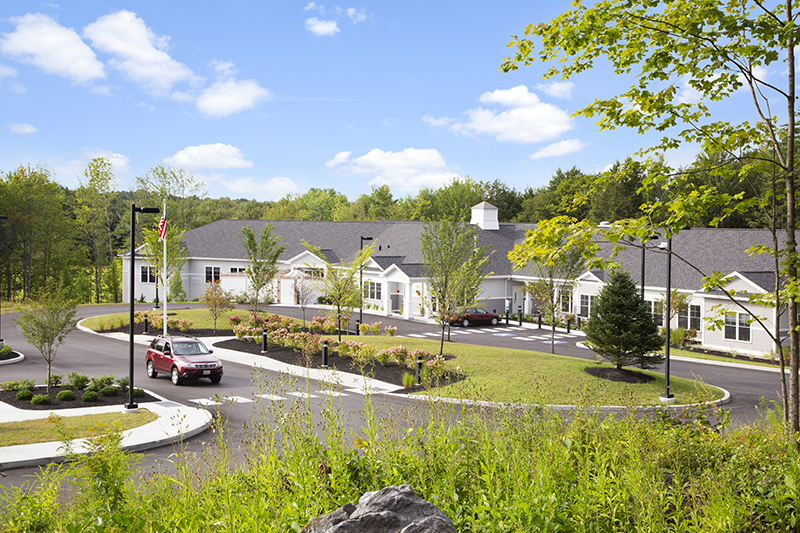 Auburn, ME Landry/French Construction has completed the Schooner Memory Care.
Located on an eight-acre site next to Schooner Estates, a senior living community on Stetson Rd, this new 47,600 s/f facility specializes in memory care and assisted living. Designed by Gawron Turgeon Architects, the 66-unit facility features private and semi-private apartments in three 22-bed neighborhoods. Each neighborhood in the two-story building includes a common dining room, living room, sunroom, activity room, and quiet room. A warm, welcoming lobby and sitting area is centrally located at the heart of the three neighborhoods. The facility also includes several administrative and staff offices, conference room, multi-purpose room, commercial kitchen, and laundry. Secure, outdoor garden spaces are provided as well.
Landry/French served as construction manager on the $12 million project.
Celebrating its 10-year anniversary, Landry/French is one of Maine's leading commercial building contractor providing construction management, design/build, and general contracting services.
Their experience includes a diverse range of projects including education, healthcare, commercial, corporate, financial, and housing. Awards and recognition include three AGC Build Maine Awards; Best Places to Work in Maine for the past five consecutive years; and the Governor's Award for Business Excellence in 2016. In addition, Landry/French was named to the Inc. 5000's list of Fastest Growing Companies in America in 2017 and 2016. Landry/French is a 100% Employee-Owned Company. For more information, please visit us at landryfrench.com.