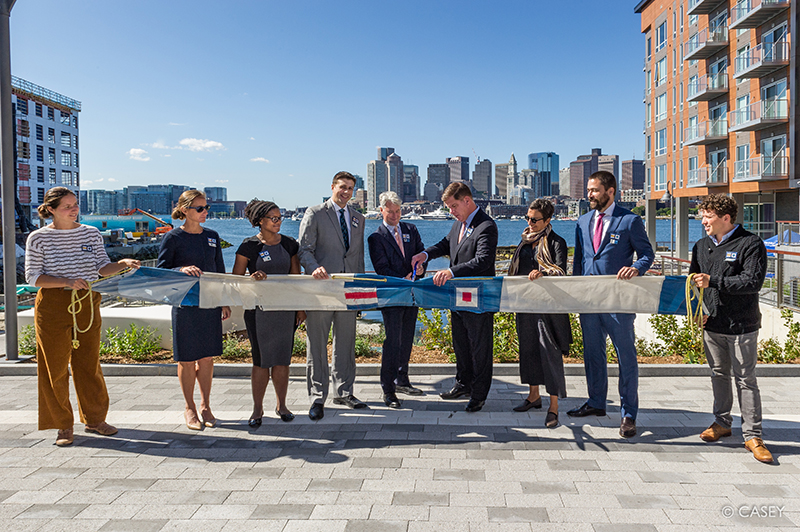 East Boston, MA Mayor Walsh, state and city officials, community members and Lendlease came together to celebrate the opening of Clippership Wharf, a mixed-use project that is transforming the city's waterfront. Clippership Wharf includes both apartments and condominiums, and a stretch of the Harborwalk featuring gathering spaces, public art and climate-resilient features.
Also joining in the celebration were Lisa Berry Engler, director of coastal zone management for the Executive Office of Energy and Environmental Affairs; state senator Joseph Boncore; state representative Adrian Madaro; and Kathy Abbott, president and CEO of Boston Harbor Now.
Clippership Wharf features a first-of-its-kind "living shoreline" in the city's inner harbor, featuring natural plantings, salt marshes, rocky beaches and wildlife habitats. Residents are welcomed to interact with the water through an on-site kayak rental center.
The development has achieved USGBC LEED for Neighborhood Development: Silver certification, which is awarded to developments that help create a more sustainable and well-connected neighborhood.
In the event of a serious storm, Clippership Wharf will deploy a system of flood barriers to protect low-lying areas, and the lowest residential floors sit 14 feet above the current high tide, providing residences with reliable protection from flooding and predicted sea level rise.
Set directly on Boston Harbor, adjacent to Maverick Sq., Clippership Wharf boasts views of the Boston skyline and the shortest commute to downtown – one stop on the Blue Line or under 10 minutes via water taxi.
"We're proud to celebrate over 400 new homes for individuals and families in East Boston. This project brings much-needed housing to East Boston, and moves us closer to our citywide housing goals," said mayor Walsh.
"Clippership sets a strong standard in how to create high-quality, sustainable development along our waterfront. In the city of Boston we're developing neighborhood solutions to coastal flooding—and that's exactly what Clippership Wharf does through its resilient design."
"As the Commonwealth continues to witness firsthand the impact of increased storm intensity and other impacts from climate change, infrastructure along the coast has adapted to incorporate resilient design into both structures and open spaces," said Energy and Environmental Affairs secretary Kathleen Theoharides. "Clippership Wharf's forward-thinking design has elevated living space in an effort to prevent future flooding while creating living shorelines that help connect the community with coastal habitats."
"We are incredibly proud of what we are creating on East Boston's waterfront at Clippership Wharf," said Nicholas Iselin, general manager of development in Boston at Lendlease. "We challenged ourselves to push forward new sustainability and resiliency standards, while also focusing on how to create a destination that encourages the broader community to utilize our public space and access the waterfront for generations to come."
Occupancy began at Clippership Wharf in August. Slip65 were some of the first condos of scale on the waterfront, and sold out in eight weeks, with 40 of the 80 units selling out in less than two days. Clippership Apartments on the Wharf opened its doors in August and are nearly 50% leased, with over 100 units taking occupancy in the first month alone. Slip45 sales began this year, and are already more than 60% sold. Move-ins are expected in summer 2020. Clippership Wharf has also enabled new construction of 22 affordable housing units and 30 mixed-income condominiums at the neighboring site of the Boston Housing Authority's Heritage Apartments public housing community.
Clippership Wharf is one of the first development projects in the city for Lendlease, a leading international property and infrastructure group.