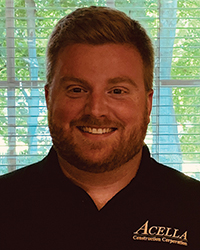 Norwell, MA George Lloyd has joined Acella Construction Corp. as project coordinator.
In this role, Lloyd will oversee all phases of construction projects, working with architects, engineers, field superintendents and subcontractors and coordinating the day-to-day aspects of each project.
Most recently, Lloyd worked for a construction company located on Cape Cod, where he was responsible for overseeing scheduling, materials ordering, progress tracking, sales tracking, time tracking, and job costing. He has also been responsible for leading two charity golf tournaments that offered scholarships to local students. Lloyd studied chemical engineering at University of Mass.-Amherst.
"We're excited to welcome George to the growing Acella family," said Dave Dirubbo, founder and president of Acella Construction Corp. "George's enthusiasm and ability to build relationships combined with his construction experience fits in well with the Acella philosophy of 'Building Projects, One Relationship at a Time,' and we are happy to have him as part of the team."