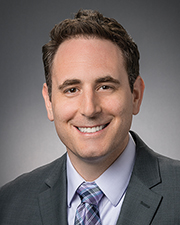 As 2018 comes to a close I'm gearing up to serve as the president of the Massachusetts and Rhode Island Chapter of the Appraisal Institute. On December 4 at the top floor restaurant of Boston's Federal Reserve office tower, I was sworn in as chapter president along with the three other officers and eight members of the board of directors.
Serving the chapter in 2019 as officers will be George Demopulos, SRA, AI-RRS as vice president, John Drew, MAI as treasurer, Brad Hevenor, MAI as secretary and Doug Gablinske, SRA, AI-RRS, RI branch chair.
The eight board of directors for 2019 include Chris Bowler, MAI, SRA, David Cary, MAI, Greg Accetta, MAI, AI-GRS, Melanie Kosich, MAI, Joseph Comperchio, MAI, SRA, Karen Ryan, SRA, Zach Bowyer, MAI, and Robert Maloney, MAI
I've been involved with the chapter for the past 13 years. In 2006, Zach Bowyer, Bennet Johnson and I created the emerging leaders group. At that time there were only a few of us young/new appraisers that were active in the chapter. We originally created the group for appraisers younger than 30 to network with each other, but it seemed that each year we would increase that age limit as there were fewer and fewer appraisers that qualified for the group. It's rewarding to see that within the past couple of years there have been a handful of new young appraisers that have found careers in Boston and are getting involved with the chapter.
I encourage anyone new to the profession or interested in getting involved with the chapter to reach out to me or any of the officers, board members or committee leaders.
Nicole McDonnel, John Charters and Joe Crescio are co-chairs of the social committee for 2019 and are in the process of organizing a few networking events, which will include a chapter ski outing to New Hampshire. We'll have more info to announce soon.
On January 29 the chapter will be hosting the Economic Outlook and Real Estate Trends seminar, which will be held at the Federal Reserve Boston. Our panelists include Aaron Jodka, director of research at Colliers; Anne Meczywor, president of the Massachusetts Association of Realtors; Paul Natalizio, president of Cornerstone Realty Capital; and Kerry Hawkins, senior director at HFF. To register for the event go to http://massri-appraisalinstitute.org/
Other educational offerings being offered in the near term include: General Appraiser Income Approach Part 1 on February 13 and 2018/2019 7-hour National USPAP Update Course on February 27.
I look forward to seeing you at one of our educational or networking events soon.
Happy New Year!
Greg Curtis, MAI, is the 2019 president of the Massachusetts and Rhode Island Chapter of The Appraisal Institute, and senior vice president, valuation & advisory at Newmark Knight Frank, Boston, Mass.