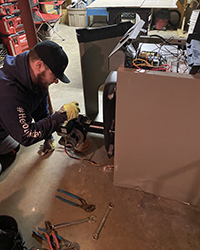 Concord, NH Brandon MacLellan has joined Legacy Mechanical Services, LLC as the newest member of their plumbing and HVAC team. MacLellan brings a wealth of experience in water treatment systems and commercial construction.
In his role as a sales consultant, MacLellan looks forward to providing attentive service and innovative solutions to customers while demonstrating the hallmark Legacy values. As a plumbing apprentice and licensed gas fitter, he looks forward to developing his trade skills and pursing new areas of expertise.
"In the several years I've known Brandon, it has been easy to recognize his consistently honest and purposefully motivated work ethic. His trade skills in the water treatment industry and his commitment to our values of quality, communication, and respect are a welcome addition to the Legacy Mechanical Services team," said Rick Baron, president/owner.
"We are excited about the sustained growth of our young talent. MacLellan exemplifies our company culture and his passion for the trade is unmistakable," said Nina Ann Timney, controller/co-owner.
Legacy Mechanical Services, LLC is a New Hampshire-based plumbing and heating company founded by Rick Baron on the values of quality, communication, and respect. The company's vision is to deliver an exceptional experience by channeling the talent and passion of its tradesmen and trades partners. Legacy Mechanical Service is based out of Concord, NH and it's primary offerings include residential and commercial new construc