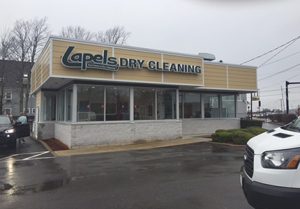 1540 Turnpike Street - Stoughton, MA
Stoughton, MA According to Mark Shair, president of M&J Associates, Inc., Lapels has opened at 1540 Turnpike St.  This 2,000 s/f store is a former Dunkin' Donuts.  The location is within the Stoughton Crossing Shopping center.  It is across the street from Target and LA Fitness.
Lapels will operate this store with a full dry cleaning processing plant.  This facility will be able to serve 5 satellite drop-off units that will be opened in the next 12-24 months. Lapels operates more than 50 locations in New England and is rapidly expanding.
Stoughton Crossing currently has 3 tenants South Shore Bank, Dunkin' Donuts and Lapels.  There is a planned expansion that will add another 55,000sf of space.
M&J Associates,Inc., is a full service real estate brokerage company located at 120 Wells Ave., Newton Mass.