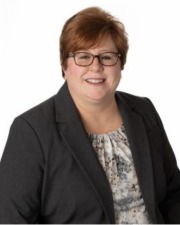 MountainOne Bank has appointed Marie Harris as Vice President, Credit Administration Manager. In this position, Harris oversees all aspects of the Credit Administration Department, including commercial loan underwriting, portfolio review and monitoring, as well as identifying and assessing commercial loan credit risk.
Under Harris' direction, a formal Credit Analyst Training Program has been recently established. Working in conjunction with an external trainer, Harris co-developed the program curriculum, which focuses on best practices in underwriting, structuring and monitoring C&I, CRE and ADC Loans, as well as embedding MountainOne's risk appetite, risk tolerance, risk culture and lending philosophy.
MountainOne Bank President & CEO Robert Fraser said, "Marie is well-deserving of this leadership opportunity. Her experience and team oriented approach will enable us to develop a new generation of credit analysts, while also working closely with our commercial lending team to effectively manage credit risk and develop new business."
Harris brings over 25 years of banking experience. Prior to her promotion, Harris served as Vice President, Senior Credit Analyst. In her most recent role, Harris underwrote and monitored MountainOne's most complex CRE, C&I and ADC loans, mentored junior analysts, performed in-depth commercial loan portfolio analyses, and prepared various 'asset quality' reports for the Bank's internal Credit Committee and Board of Directors.
Harris received her Associate's degree in Business Administration from Middlesex Community College.