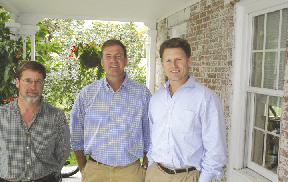 Shown (from left) are: Patrick Malone, Yves Bradley of Pomerleau Real Estate, and Doug Nedde of Redstone.
Redstone co-owners Doug Nedde and Larry Williams, and another partner, Patrick Malone, purchased the former Saputo Cheese site. The 88,000 s/f facility is situated on 15.4 acres off Rte. 116. It currently consists of 77,650 s/f production/warehouse space including up to 13,000 s/f refrigerated cooler space, 6,400 s/f office space, and 4,315 s/f storage.
The project partners plan to present a master plan for the property to the Planning Commission this fall. Among the discussed uses are housing, a restaurant/brew pub and a food-related business.
Yves Bradley of Pomerleau Real Estate represented the seller, Saputo Cheese USA, Inc. Originally listed by Pomerleau Real Estate for $1.4 million, its price gradually dropped, and Redstone purchased it for $526,500.