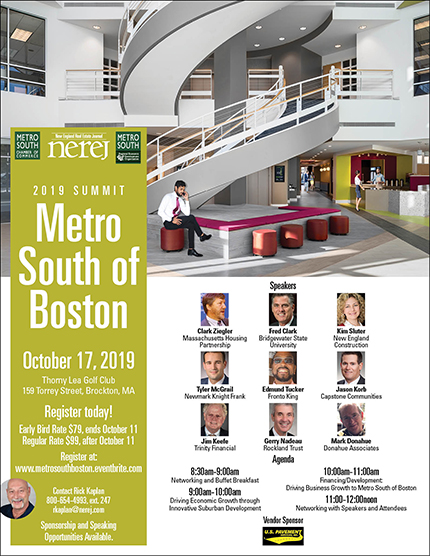 Brockton, MA The New England Real Estate Journal (NEREJ), with the Metro South Chamber of Commerce and the Metro South Regional Economic Development Organization, will host the Metro South of Boston Summit on October 17th at the Thorny Lea Gold Club at 159 Torrey St.
To attend please register at: http://www.metrosouthboston.eventbrite.com. Early bird rate for tickets ordered before October 11th is $79. After October 11th, tickets cost $99.
Enjoy networking and a buffet breakfast from 8 – 9 a.m.
The first panel will be held from 9 – 10 a.m. Topics include driving economic growth through innovative suburban development.
The second panel will be held from 10 – 11 a.m. Topics include financing/development: driving business growth to Metro South of Boston.
Sponsors include:
• Vendor Sponsor: U.S. Pavement Services, Inc.
Sponsorships and speaking opportunities are still available. Contact Rick Kaplan at [email protected] or 781-878-4540 x247 for more information.