Needham, MA The New England Real Estate Journal (NEREJ) will host the Construction Trends of the Future summit on September 19th at the Sheraton Boston Needham Hotel, 100 Cabot St. To attend please register at: www.cnstructiontrends.eventbrite.com. Tickets cost $129. Come and meet old friends, create new contacts, or learn something new during discussions from professionals in the industry.
Enjoy networking and a buffet breakfast from 8 – 9 a.m.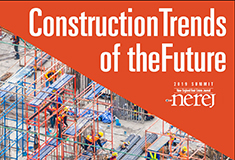 The first panel will be held from 9 – 10 a.m. and topics include: Construction management, construction law and skilled labor update.
Panelists include:
• Moderator – Brent Trethewey of Licata Risk Advisors;
• Ronald Ciotti of Hinckley Allen;
• Steven Kelly of Timberline Construction;
• Greg McGee of Lendlease Construction; and
• Kacy Caviston of Commercial Modular Construction.
The second panel will be held from 10 – 11 a.m. and topics include: Technology changing the construction industry, efficiency, logistics, robots.
Panelists include:
• Moderator: Luiza Mills of Interstate Electrical Services
• Bruce Ackman of Cambridge Consultants;
• Yoshua Rozen of PartRunner; and
• Tony Rodolakis of Wood Envrionment & Infrastructure Solutions.
Sponsors include:
• Platinum Sponsor: M&T Bank
• Corporate Sponsors: Hinckley Allen; Timberline Construction; and A/Z Corp.
• Vendor sponsor: U.S. Pavement Services, Inc.
Sponsorships and speaking opportunities are still available. Contact Rick Kaplan at [email protected] or 781-878-4540 x247 for more information.