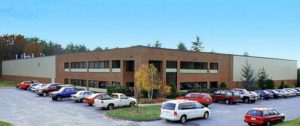 10 Liberty Way - Franklin, MA
Franklin, MA Bret O'Brien of Greater Boston Commercial Properties represented, Liberty Realty Trust, the owner of 10 Liberty Way in a 55,023 s/f lease. The tenant, Taylor Exhibition Services, Inc. extended its lease of the entire freestanding building on five acres.  The new lease commences December 1, 2016 with a new rental rate that is 9% higher than the final year of its current lease.  "As the market for flex and industrial space continues to tighten, narrowing supply is driving rental rates upwards at an exciting pace" said O'Brien.
The Franklin Industrial Park location off Rte. 495 at exit 16, provides the company a northeast hub with 9,000 s/f of office space, while the balance of the building is warehouse and production space.