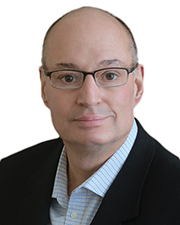 Year you entered your current field? 1992
How have your life experiences impacted who you are professionally? It certainly has given perspective. I have five children and two grandchildren. I also have a wife who has been struggling with maladies that keep her from working. However, watching her overcome her challenges as she always strives to show love, affection and encouragement to our clan, has taught me patience, and has put into perspective the humanity we need to express as I work with my professional clients and peers.
Who or what do you attribute to your success? Perseverance and an open mind. I've experienced ups and downs in a competitive environment. I always strive to do my best and to feel confident that there is trust with clients, ultimately leading to successful professional relationships. Inevitably, we all have to persevere through our own limitations and setbacks to learn and understand fully what holistically is best – not only to win the day-to-day deals, but also to enable us to be trusted as we build long-term relationships with our clients. For me, it's all about that – long-term, trusted relationships. Don't forget that it is a lot about those relationships.