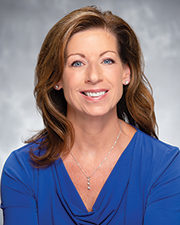 Gloucester, MA According to Rockport Mortgage Corp., Linda Pellegrino, senior vice president, was named Professional Woman of the Year by the Institute of Real Estate Management's (IREM) New England Chapter #4.
The Professional Woman of the Year Award was established in 2014 to celebrate the extraordinary accomplishments of women in the real estate industry who demonstrate outstanding leadership qualities, as well as the exceptional commitment to their careers, their communities and the industry at large.
In nominating Pellegrino for this prestigious award, Gregg Jenner, senior regional manager of the Simon Cos. and a past president of the Boston Chapter of IREM, said, "Linda has restructured, preserved and changed the lives of families living in more than 134 developments. She is responsible for over $1 billion of refinancing proceeds and the preservation and revitalization of housing developments throughout New England. Her work has greatly improved living conditions for so many."
Pellegrino joined Rockport Mortgage in 2002 and is responsible for the origination and structuring of HUD-insured mortgage loans, with a concentration in the recapitalization and preservation of affordable housing communities.
"Linda's deep expertise in affordable housing and FHA financing is simply unmatched," said Dan Lyons, managing partner of Rockport Mortgage. "She is a role model and mentor to both women and men in our industry, and I am delighted that her passion and professionalism are being recognized by IREM."
Pellegrino was honored on Thursday, December 5th at The Liberty Hotel.