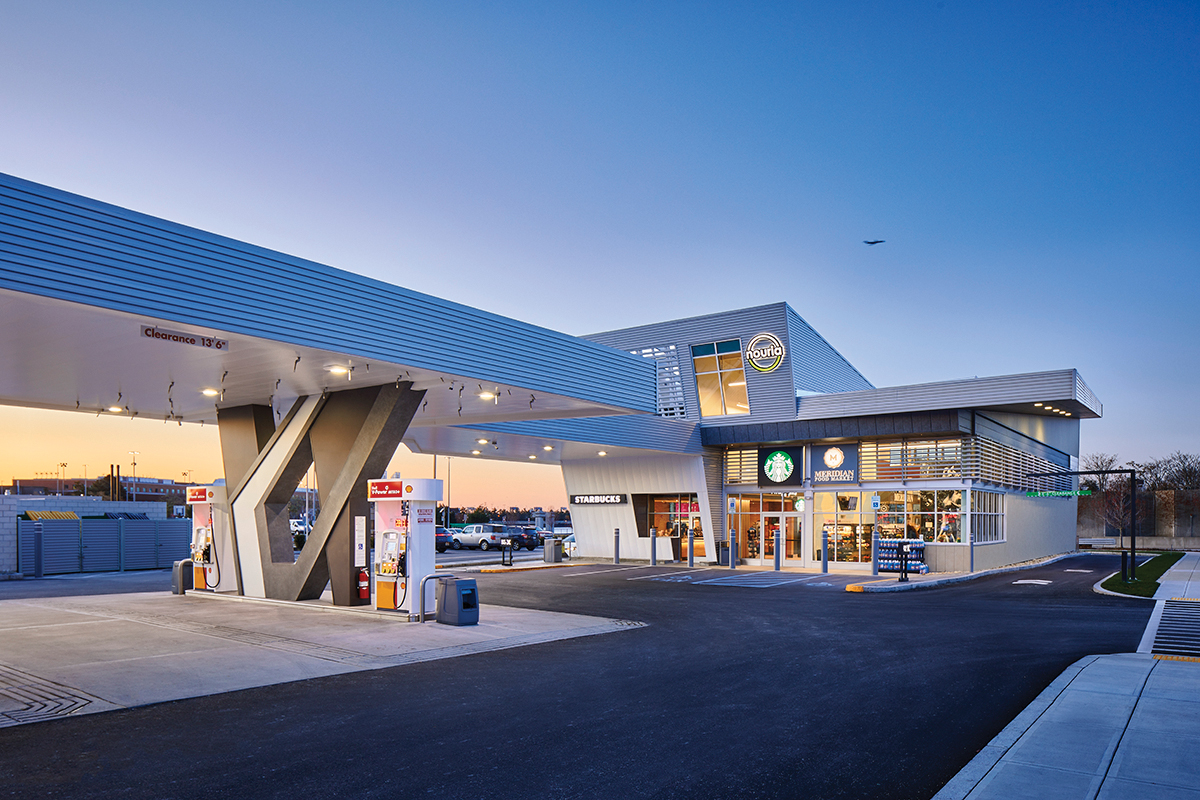 Boston, MA When Nouria Energy approached Phase Zero Design with a development proposal issued by Massport for a new Logan Airport filling and convenience center, the Hingham-based Architectural Design firm stepped right up to the challenge. Partnering with Bohler Engineering, Phase Zero Design was enlisted by Nouria Energy to design their new flagship location at Boston Logan Airport, located at 45 Transportation Way. The design process started in spring 2018, and construction was completed mid-October for an October 29, 2019 grand opening.
The $4.75 million Logan Airport Nouria Energy Convenience Center totals 6,600 s/f and includes Nouria Energy's better-option convenience store, Starbucks' first in the nation travel center location and Meridian Market, a favorite East Boston eatery. This project features an outdoor plaza with a direct connection to East Boston's Jeffries Point neighborhood, providing a gathering place and access to the center's purveyors. The signature contemporary building design employs a double sloped roof to evoke a feeling of flight – as appropriate for its surroundings – and high-quality sustainable materials were carefully chosen to be used throughout. Under the direction of Entegra Development & Investment, LLC, electric vehicle charging stations and solar panels are just a couple of the sustainable design initiatives included to achieve LEED Silver certification for the new building.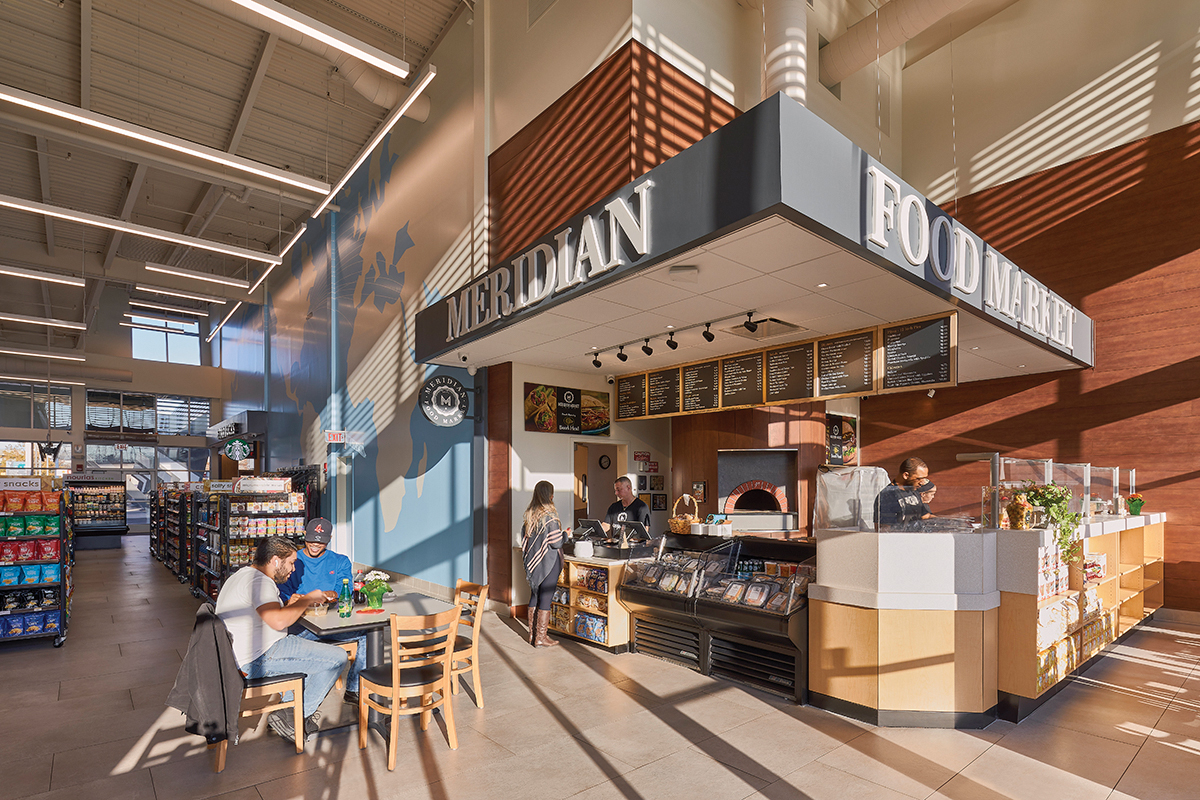 Founded in 1989 by Tony El-Nemr, Nouria Energy is one of New England's largest and most trusted family-owned and operated convenience stores and fuel retailers. The company owns 150 convenience store locations in five New England states. As Nouria continues to grow, it is acquiring, building and supplying new locations, which include gas and diesel fuels, modern and clean convenience stores, nationally recognized co-brands and proprietary food service. Nouria Energy Corp. takes great pride in having remarkably clean, well-lit and conveniently placed locations for its customers, and with Phase Zero Design having led the design and execution process, this East Boston Logan Airport location does not stray from this best-in-class concept.
The state-of-the-art convenience store boasts a unique architectural design, brightness from large surrounding windows, a spacious layout and community-inspired wall graphics. Included amenities are a Starbucks café with a drive-thru and ample indoor and outdoor seating to enjoy the specially curated food options from Meridian Market.
The store proudly offers Shell branded fuel through 16 fueling stations. The fueling area was designed with a canopy that connects to the retail building and exterior finishes between the two are unified. Phase Zero Design principal Jim Kimball emphasizes, "Bringing Nouria's vision to life was an extremely rewarding experience for our team. Massport set the bar pretty high for the building design and the team at Nouria gave us the freedom to exceed everyone's expectations."
The existing site was a paved parking area that served as a staging area for airport transportation services such as taxis, limos, Uber, etc... Parking areas immediately adjacent to the fueling station remain and continue under the same use.
"In order to deliver the modern fuel and convenience retail facility that Massport envisioned for Logan Airport, we had to pull together a professional design and construction team that was up to the task. As project architect, Phase Zero Design led the effort in translating the design criteria into a functional, attractive retail facility that will service Nouria and Massport customers for many years to come. We are proud to have Phase Zero Design as part of our project team," said Tom Healey, V.P. technical services, Nouria Energy Corp.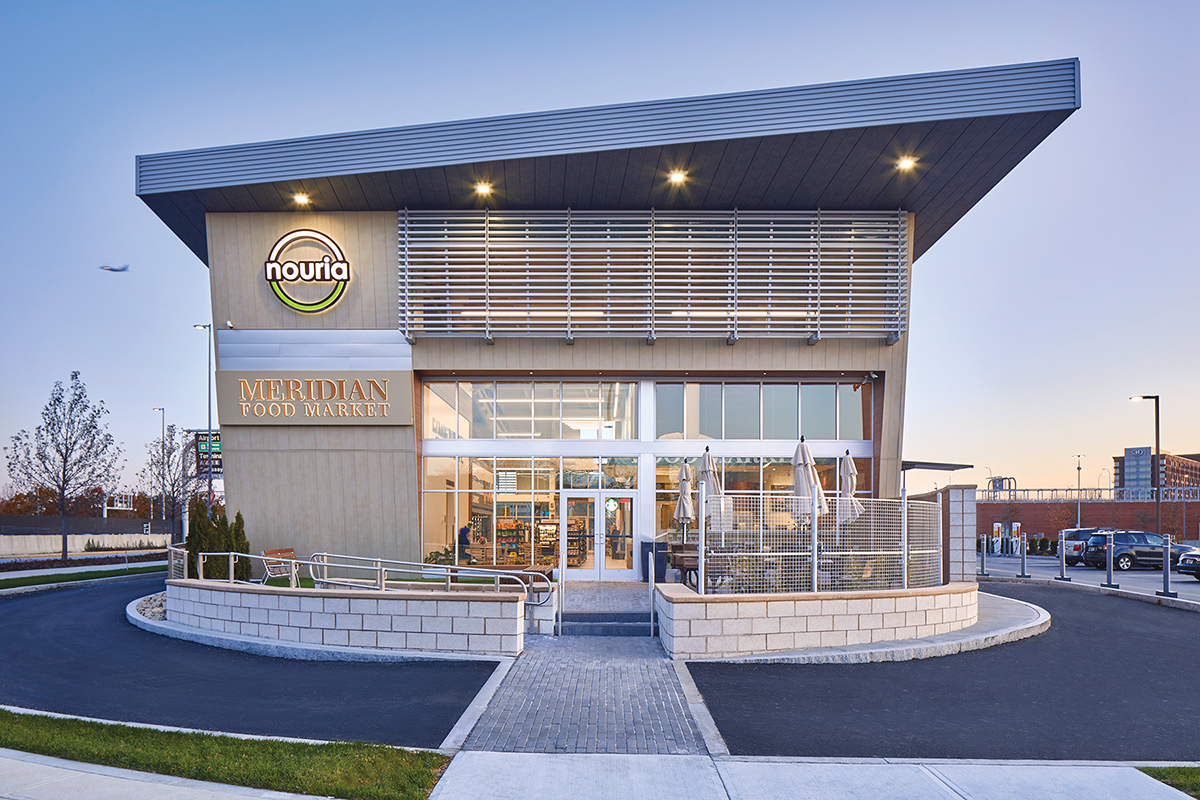 Phase Zero Design is an innovative, client-centric design firm offering architectural, interior design and planning services to a diverse base of local and national clients. The firm's expertise includes the academic, corporate, hospitality, retail, cannabis and multifamily residential market sectors. Phase Zero Design was founded on the simple premise that crafting a unique design experience is about you, and their focus is always bringing their clients' visions to life.
Nouria Energy Project Team:
Nouria Energy Corp. - Owner
Phase Zero Design - Architect
LaMountain Bros., Inc. - General Contractor/Electrical
Bohler Engineering - Civil Engineer
Unified Contracting Inc. - Sitework
Entegra Development & Investment, LLC - LEED Consultant
Atlantic Refrigeration of Hudson - Refrigeration and HVAC
Ken Pecore Plumbing - Plumbing
Nikopoulos Masonry - Masonry