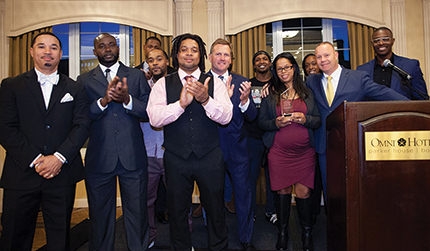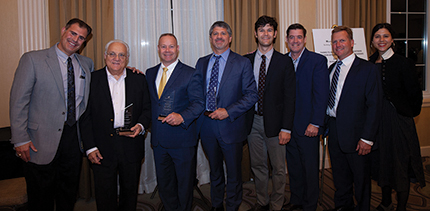 Boston, MA Pipefitters Local 537 was honored with the prestigious Making a Difference Award by Building Pathways. The award honors organizations who have made significant contributions in the lives of graduates, their families and the communities in which they live and work. Pipefitters Local 537's training program and membership was noted in particular for its success in recruiting top talent while providing opportunities to women and people of color.
"Local 537 has truly been a key supporter of our work and critical to creating greater diversity and inclusivity in the building trades workforce," said Mary Vogel, executive director of Building Pathways.
Contractors EM Duggan and JC Cannistraro also received accolades for their commitment to ensuring economic opportunity across the region.
Pipefitters Local 537 opened a training center in Dorchester to help hundreds of residents jumpstart their careers in construction this past spring. There, hundreds of event attendees toured the facilities, met with instructors and current apprentices and learned about life-changing job opportunities. The center, which also is the home to the union's new headquarters, includes a new rigging/derigging training space and 80 new welding booths.
Female pipefitters, welders and HVAC technicians were also recently recognized among the nearly 500 tradeswomen who worked on Encore Casino's 7,000 person construction crew. Together, these women set a record for the largest number of female workers on any construction project in U.S. history.
"We're incredibly honored that Building Pathways is recognizing Local 537's top-notch training program and diverse membership," said business manager Brian Kelly. "This award is a true testament to our curriculum, world-class instructional staff and countless success stories. We're thrilled to be creating opportunities for all who want to learn a new trade and make a great living without going into thousands of dollars of debt at a technical college."

Local 537 represents over 3,000 members across Massachusetts and is affiliated with the United Association. From medical campuses to area universities, Local 537 is proud to have worked on projects of all shapes and sizes throughout the region for over 100 years. Local 537 continues to provide career opportunities to apprentices and journeypersons in the industry and is determined to ensure the best wages and benefits for Pipefitters, Welders, and HVAC - Refrigeration Technicians.

Launched by the Building and Construction Trades Council of the Metropolitan District (MetroBTC) in 2011, Building Pathways creates opportunities for low-income area residents, particularly in underserved communities, to access and prepare for building trades apprenticeships and family-sustaining careers in the construction industry. Through apprenticeship preparedness training, outreach to young adults, and advocacy, Building Pathways addresses the need to recruit top talent into the industry while opening career pathways to women, people of color, individuals with disabilities, and transitioning veterans.
Photo credit 617MediaGroup