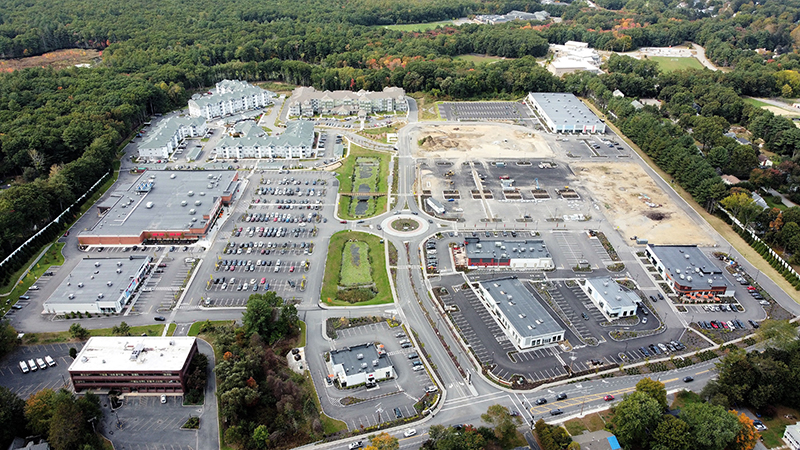 Maynard, MA Capital Group Properties announced retail openings at Maynard Crossing, a new 306,000 s/f mixed-use development with a mix of uses anchored by Market Basket. The new openings include, Planet Fitness and Supercuts, both of which had grand openings in early November.
In addition, CycleBar one of the largest indoor cycling franchises in the world, will be opening January 2022. Under construction and opening first quarter 2022 will be the following mix of medical, fitness, service, and food tenants: Emerson Hospital (Urgent Care), Bueno Y Sano Mexican fast casual restaurant, Zina Day Spa, Maynard Family Dental and F45 Fitness.
These new tenants will join a synergy of retail, dining, healthcare and entertainment users at the open-air development Maynard Crossing which is a thriving pedestrian-friendly environment. The development, which is located at 2-16 Digital Way, broke ground in 2019, integrating new residential communities with Halstead Maynard Crossing, a 180-unit luxury apartment complex, and Camellia Gardens, a 143-unit luxury senior independent living community. "Maynard Crossing has exceeded our expectation as the premier open air mixed-use center in the Metrowest and because of that Capital Group will be breaking ground on Phase II of the project in the spring of 2022 with the addition of two more buildings totaling 45,000 s/f," said James Vazza, leasing manager of Capital Group Properties.
Recent store openings celebrated earlier this year at Maynard Crossing include Gymja Warrior, Paper Store, Spirits Liquor, Hair in Harmony, Middlesex Savings Bank, and Eco Nails.