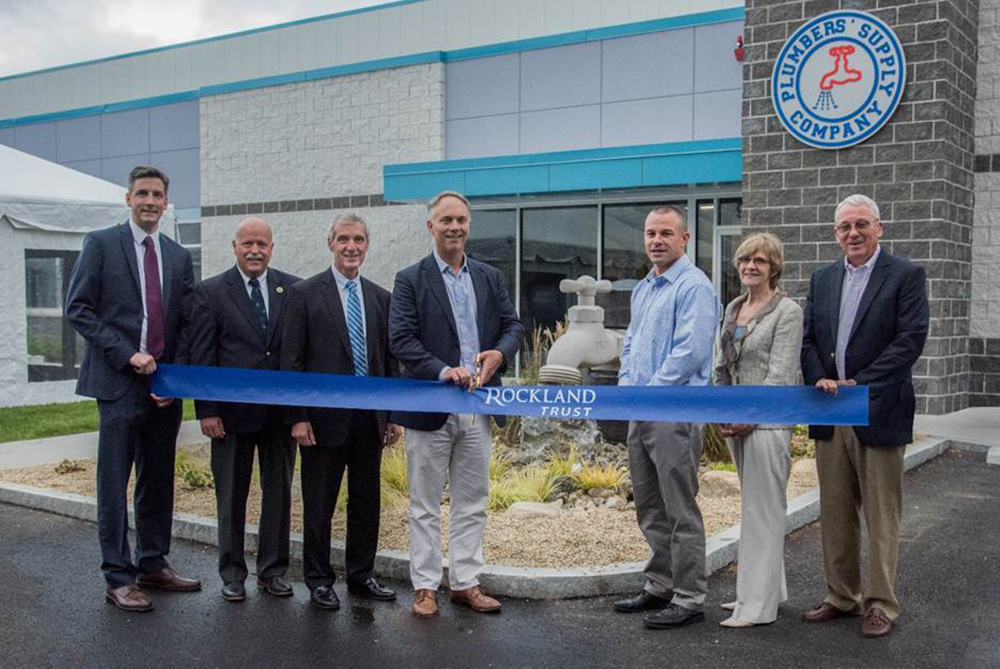 New Bedford, MA Rockland Trust joined Plumbers' Supply Co. at a ribbon-cutting ceremony celebrating the company's new headquarters and distribution center in the city's Far North End Business Park. The 175,000 s/f building includes 20,000 s/f dedicated to Plumbers' Supply's corporate headquarters with the remaining 155,000 s/f housing its warehouse. Rockland Trust provided a $12.6 million construction loan for the project. The general contractor was Construction Management & Builders (CM&B) out of Danvers. The architect was RKB Architects, Inc. and the site contractor was J.R.D, Inc.
Grant Nickerson-Rockland Trust; William Brad Markey - Ward 1 Councilor; Gerry Nadeau-Rockland Trust President; Mayor Jon Mitchell; Brian Jones-Plumbers' Supply; Donna Abelli-Rockland Trust Board Chair; Kevin Jones-Plumbers' Supply.
"Rockland Trust is honored to participate in this milestone for Plumbers' Supply Co. and we are excited to support their growth in the New Bedford area," said Gerry Nadeau, president and chief commercial banking officer at Rockland Trust. "Partnering with businesses that are committed to their community is essential to Rockland Trust's mission and we wish Plumbers' Supply many more years of success."
The Plumbers' Supply building is located on a 45-acre plot in the industrial park. Plumbers' Supply principal Kevin Jones said the proximity of the new building enabled the company to retain its employees, created seven more jobs, and will allow them to have more flexibility for potential expansions.
"As we continue to grow the company, we are thinking proactively about our facility needs," Jones said. "We have room to expand on this property so we can keep our roots right here in New Bedford."