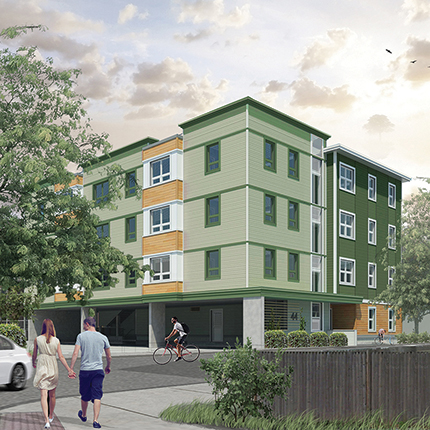 Cambridge, MA Callahan Construction Managers (Callahan) has broken ground on Squirrelwood Apartments, a 12-building, 88-unit affordable housing development. Owned by Just-A-Start Corp., Callahan and Davis Square Architects were tasked to renovate the 10 existing buildings and execute the design and construction of two new infill buildings, along with an addition to an existing building. The new construction will target Energy Star and Passive House standards.
"With a wide range of units to accommodate families of all sizes and a variety of income levels, the Squirrelwood project is an important step in Just-A-Start's mission to offer quality, inclusive housing to Cambridge residents. As housing costs in the city continue to rise, Just-A-Start is proud to work alongside its partners to preserve the affordability of these homes and create more access to secure housing in this community," said Just-A-Start executive director Deborah Ruhe.
The Squirrelwood project consists of two existing affordable housing projects: Linwood Court and Squirrel Brand Apartments. Linwood Court includes eight buildings with 45 residential units that will undergo renovation. Upgrades to existing units will include kitchen and bathroom remodels, new flooring and windows throughout, and updates to all exterior facades, including brick repointing, new siding, insulation, and roofing. Residents will be temporarily relocated to other units throughout the property while their homes are under construction.
The Squirrel Brand Company, a candy manufacturer founded in 1888 in Roxbury, Mass., moved its headquarters to 12 Boardman St. in Cambridge. The headquarters, converted into 20 units of multifamily housing in 2000, is now known as Squirrel Brand Apartments. The building sits on the State Register of Historic Places and will be rehabbed to meet historic preservation standards. This building will remain occupied during construction and will require close coordination for the selective interior renovations planned in addition to the exterior work.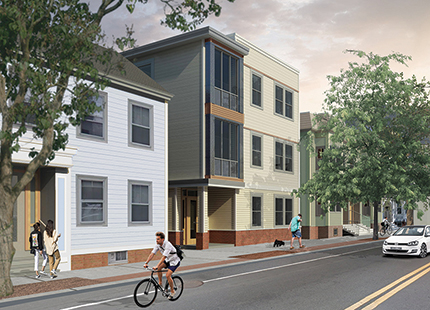 The two new infill buildings, along with the addition, are currently under construction and will offer an additional 23 units to the development. The largest infill building will be built to Passive House building standards, ensuring maximum energy efficiency and resident comfort. Passive House construction adheres to five building-science principals: continuous insulation throughout the entire envelope without thermal bridging; an airtight building envelope preventing loss of conditioned air and infiltration of outside air; high-performance windows and doors that manage solar energy for maximized heating and minimized overheating during cooling seasons; energy recovery ventilation; and a minimal space conditioning system. The other infill construction will meet Energy Star standards.
The redevelopment of Squirrelwood will take place in multiple phases and includes a variety of unique challenges. Current residents will remain at the property during the renovations, requiring precise logistics and timing for execution.
"While a complicated project, the community has provided Squirrelwood with strong support and encouragement," said Iric Rex, principal at Davis Square Architects. "Given our relationship with the community, we have counted on Callahan to ensure that the existing tenants at Squirrelwood are disturbed as little as possible, and to provide guidance on how to best execute the work in a timely manner at high construction standards."
"Given the various construction components and restrictions throughout the Squirrelwood project, collaboration with Just-A-Start and Davis Square Architects was of the upmost importance," said Jessica Anthony, project executive at Callahan. "At Squirrelwood, the Callahan team was provided with an opportunity to demonstrate our expertise in Passive House building, historic renovation, occupied and new construction projects – all at the same development."
The Squirrelwood development is located at the corner of Broadway and Columbia St. Completion is slated for September 2020.
Project team: Callahan Construction Managers, DEI Systems and Percy's Appliances • Electronics, Contractor Division.