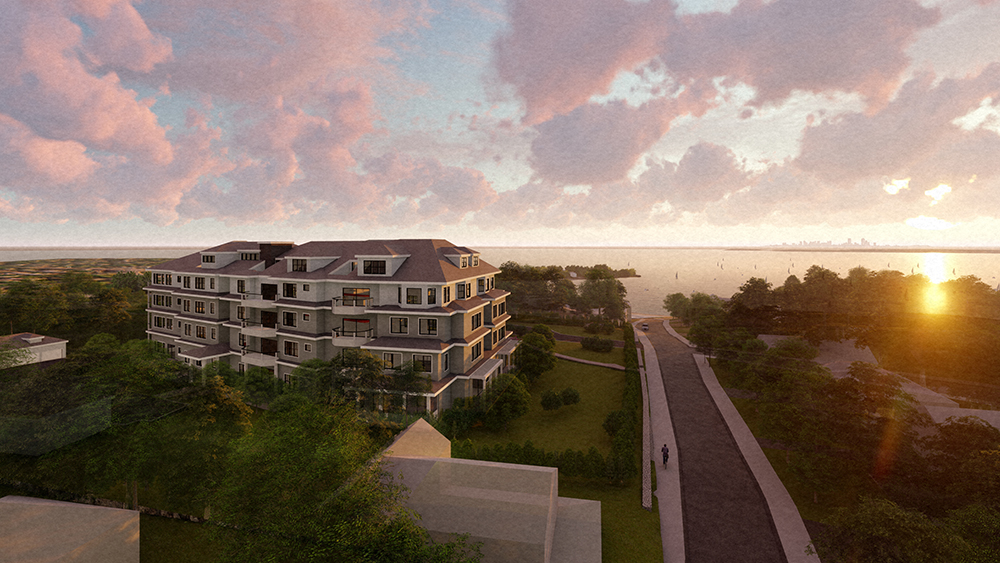 Swampscott, MA After a lengthy approval process, and the demolition of an abandoned 100,000 s/f school building, Groom Construction is well underway with the construction of a new 60,000 s/f condominium project for owner Fisherman'sWatch Condo- miniums, LLC.
The five-story building is being constructed at the highest point in town with many of the units having views of Swampscott Harbor and the Boston skyline. The building will have 28 units that range in size from 1,400 to 2,300 s/f for the larger of the two-story penthouses. The building will have underground parking, a fifth floor club room, and an exercise room.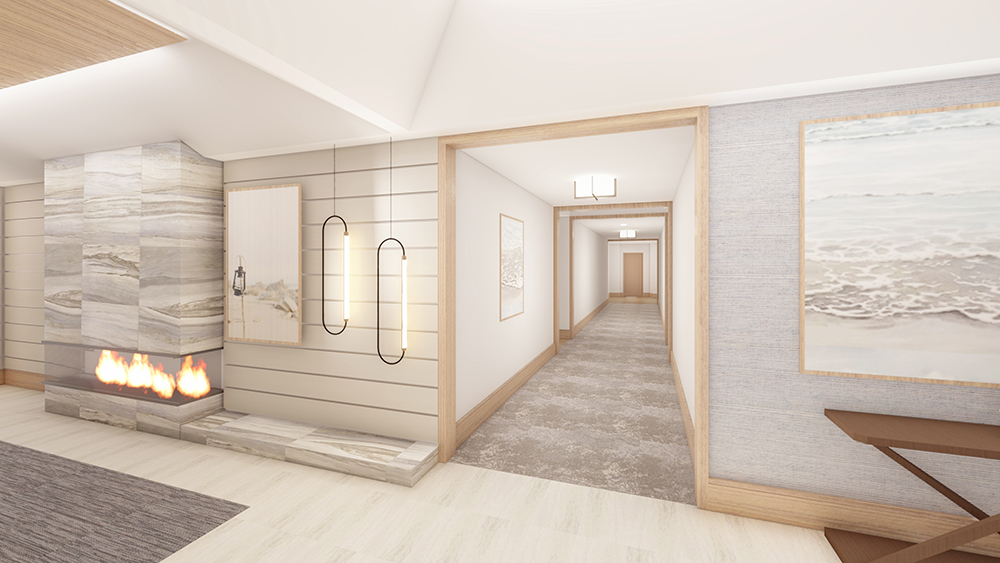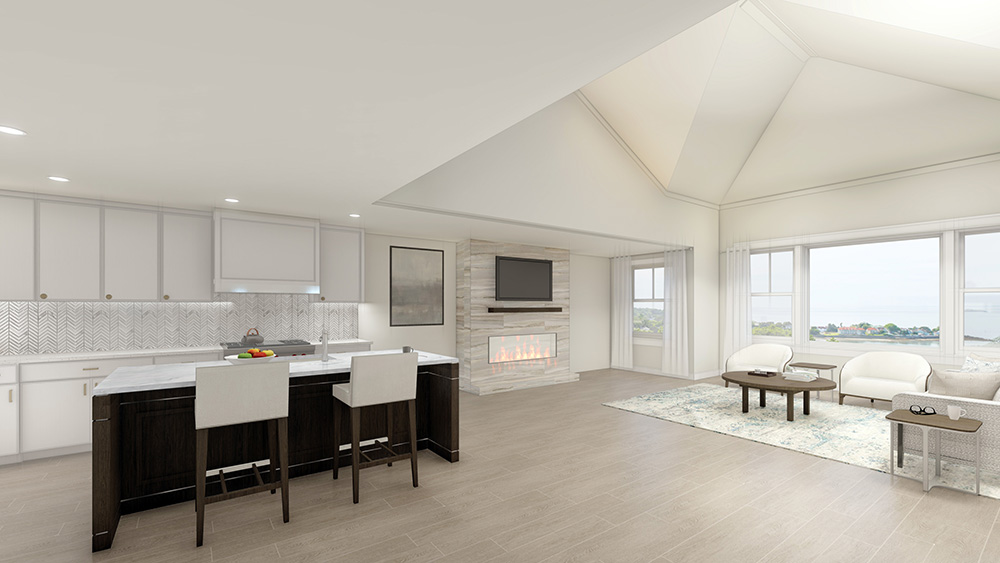 In addition, the first floor units will all have private patios and gardens, and the developer is planning a walking trail that encircles the two-acre site.
The developer and Groom Construction teamed up with Grazado Velleco Architects on the design of the project, and with LDa Architecture & Interiors, LLP on the interiors. In doing so, a concept was created that would take every opportunity to design and construct a building that would not only replace the old abandoned school but would also fit comfortably into a residential neighborhood dominated primarily by one and two-family homes. The concept was to step the building from the road on several levels in order to visually reduce the mass of the building. Hip roofs and shingle styles were also incorporated to remain in keeping with the surrounding neighborhood and period architecture.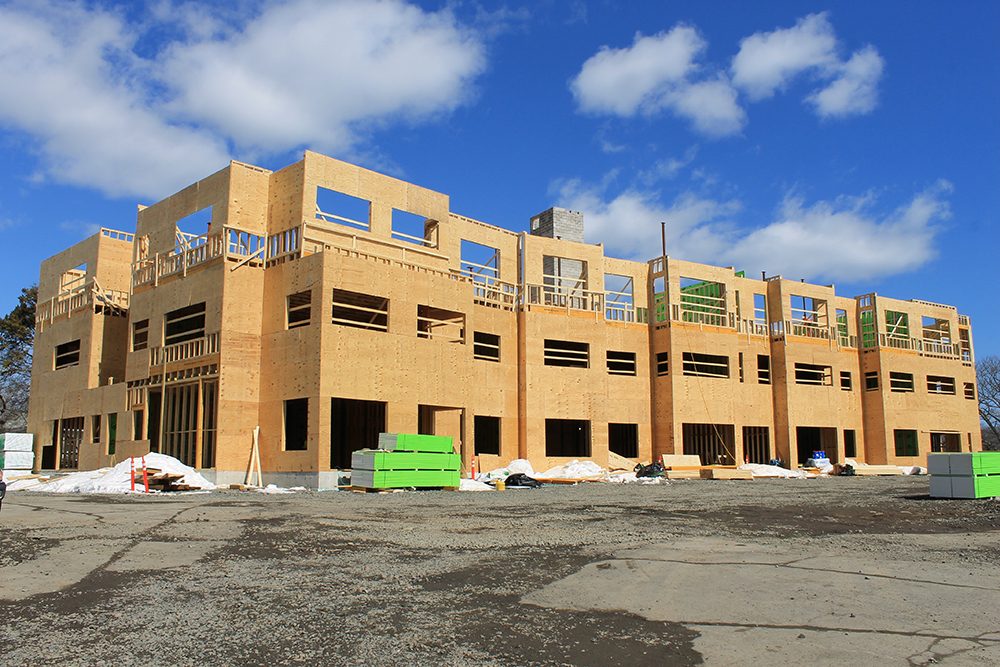 Grazado Velleco Architects worked closely with developer and with John Day, principal, Interior Design, at LDa Architecture & Interiors. Day explained how they came up with the interior design for the Fisherman's Watch Condos:
How/what did you incorporate colors and materials to entice residents?
We incorporated tones that are warm and classic - soft sandy colors mixed with blue accents which have a natural quality and are inspired by the seaside setting. Old world materials are used in updated patterns and applications to add texture and richness.
How did the team design the space to meet the residents needs and wants?
In the units, open floor plans take advantage of the ample day light and hilltop views. Master bathrooms and master suites are amply sized with incorporated storage and high end materials. We designed the kitchens with islands well suited to cooking, eating and entertaining. Guest rooms will have the flexibility to be offices or can be used as other types of spaces to suit any lifestyle.
How do the common interior spaces connect with exterior of the building and geographic location (Swampscott/North Shore)?
We wanted to create a connection to the coastal site and the region's history, but not be overtly nautical or themed. By integrating natural materials like ship lap, wood trim and marble alongside modern lighting, richly colored accents and contemporary furniture, we've created a calm and welcoming space for residents and guests – an updated style for North Shore living.
For more information about this project and sales visit: www.fishermanswatch.com
The project team included:
Groom Construction: General Contractor
Form Up Foundations: Commercial Foundations and Flatwork
LDa Architecture & Interiors: Interior Architect
JKA Construction Inc.: Rough Framing
Grazado Velleco Architects: Architect
National Lumber: Lumber
Dry Air Systems: HVAC/Plumbing