Professional Profile: Alec DiNapoli 1996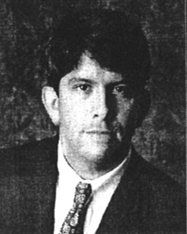 Alec DiNapoli - 1996
Name: Alec DiNapoli - 1996
Title: Commercial real estate agent
Company: Decision Development Group
Location: 482 Congress St., Portland, ME 04101
Birthplace: New York City, 1968
Family:
Wonderful girlfriend, Andrea Lutz
College activities:
While a student at the University of Maine in Orono, I was the treasurer of the Guest Lecture Series and a member of student government.
First job outside of real estate:
Retail sales at Williams & Sonoma, Inc.
What do you do now and what are you planning for the future?
Concentrate on listing and leasing office and retail space in the Greater Portland area.
Hobbies:
When I have some free time, I enjoy cooking, laughing with friends and visiting colorful places around the globe.
Favorite Book:
"Zen and Art of Motorcycling Maintenance." Though a bit lengthy in spots, this book teaches you how to achieve greater enjoyment from your every day routine. Take your time, don't always be in a rush.
Key to success:
Family
If you were not successful in the business you are now in and were forced to choose another vocation, whether you are qualified or not, what would it be?
Journalist. I love to write.