Professional Profile: Amar Shamas 2019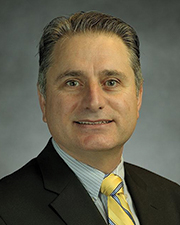 Amar Shamas
Name: Amar Shamas
Title: Senior Project Executive
Company: Gilbane Building Company
Location: 208 New London Tpke., Glastonbury, CT
Birthplace: Baghdad, Iraq
Education: University of New Haven, bachelor degree in Civil Engineering.
CRE Industry Association member: President of the Connecticut Building Congress.
What does your firm do and any plans for the future? Gilbane began in 1873 as a family-run carpentry and general contracting business. Over the past 145 years, the company has grown into one of the nation's largest full-service construction firms with annual revenues of $5 billion. Our success is attributed to our ability to offer our clients a broad range of services and create an environment where our employees are challenged to the utmost of their abilities. Gilbane has more than 45 offices worldwide. Each office combines the benefits of full-service construction management operations and capabilities, including in-house estimating, scheduling, procurement and construction operations with the knowledge and experience that only a local presence can provide. Today, the leadership and vision of the fourth, fifth and sixth generation of Gilbane family members has built the company into one of the world's leading construction management firms. My plans are to continue to grow our Connecticut office and our portfolio in the state.
Keys to success: Be a good listener, focus your conscious mind on things you desire not things you fear. Do not be embarrassed by your failures, learn from them and start again. Be a team player, always support and motivate your team.
Did you have a mentor if so who & why? If not tell us about someone living or not who you admire: A person that I admire the most is my dad; he dedicated his entire life to his children, providing them with a good life and a solid education.
Where do you see yourself in 10 years? Continue working as a builder, enjoying the accomplishments on some of our most challenging projects and reflecting back. Continue to mentor and support our younger team members so they can become future leaders.
If you had to choose a different profession, what would it be? Physician.
Favorite novel: The Hunt for Red October (A Jack Ryan Novel) by Tom Clancy
Favorite film: The Godfather
Hobbies: Tennis and Running