Professional Profile: Andrew Zickell 1994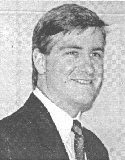 Andrew Zickell - 1994
Name: Andrew Zickell - 1994
Company: American Environmental Labs, Inc.
Location: 60 Elm Hill Ave., Leominster, MA
Birthplace: Worcester, MA
Family:
Married 11 years; 2 daughters
College:
Emmanuel College
First job outside of real estate:
Co-founded first water testing lab for real estate market in 1983
What do you do know and what are you planning for the future?
National expansion of company
Hobbies:
Tennis, sailing, politics and golf
Last or favorite book:
 "Give and Take" by Chester Karrass
Last or favorite movie:
Disclosure
Person you most emulate:
Ronald Reagan
Key to success:
Stick-to-it-ness
If you were to choose another vocation, what would it be?
Chartering sailboats