Professional Profile: Chris Daigle 2013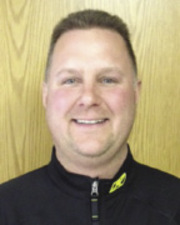 Chris Daigle - 2013
Name: Chris Daigle - 2013
Title: Principal
Company: Winterberry Irrigation, LLC
Location: Southington, CT
Birthplace: Hartford, CT
Family:
I am married to Erin and we have 3 sons Grant, Max and Zach.
Education:
I have earned several certifications, degrees and licenses in HVAC and Irrigation through technical schooling and the State of CT.
First job unrelated to your current field:
Working for Coca Cola as a member of their HVAC Department.
First job in current field:
Working for Roseway Gardens in Glastonbury, CT digging the trenches in which the irrigation systems would be installed.
What does your firm do now and what are its plans for the future?
Currently, we design, build and maintain irrigation systems for residences, commercial sites, educational campuses, municipalities and military facilities. We also install and maintain pump stations for large commercial sites and design irrigations systems for roof top gardens at hospitals and universities. For the future, I hope we have expanded outside of N.E. and the Tri-state area, and have become the leader in retrofitting older commercial irrigation systems with the new advanced technology focused on more efficient watering methods and reduced water consumption.
Hobbies:
Snowmobiling, boating, fishing and cooking.
Keys to success:
Know your intentions, have a strategy, keep things simple, take action and focus on the tasks at hand
If you had to choose a different profession, what would it be?
Professional chef.