Professional Profile: Dan Doherty 1997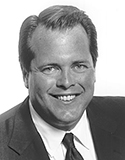 Dan Doherty - 1997
Name: Dan Doherty - 1997
Title: Principal
Company: Atlantic Retail
Location: Waltham, MA
Birthplace: Medford, MA. 1964
Family:
Single
College:
Tufts University
First job outside of real estate:
None
First job in real estate:
CB Commercial
What do you do now and what are you planning for the future?
Work in a professional, creative and growth-oriented environment – more of the same.
Hobbies:
All water sports, cycling, golf and computers
Favorite Book:
"Competitive Strategies," by Michael Porter
Favorite Movie:
"Cool Hand Luke"
Key to success:
Use in-depth knowledge to become an asset to your client base. Assertively execute thoughtfully developed strategies.
If you were forced to choose another vocation what would it be?
Sailing the Caribbean