Professional Profile: Daniel Mailhiot 2016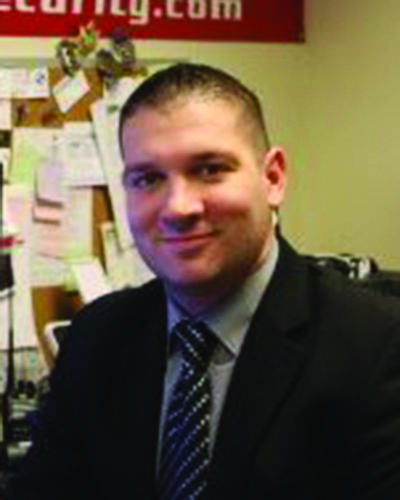 Daniel Mailhiot - 2016
Name: Daniel Mailhiot - 2016
Title: President & Client Success
Company: New England Protective Services Agency
Location: 208 Broadway, Malden, MA 02148
Birthplace: Somerville, Mass. 
College: Suffolk University
First job unrelated to your current field: La Hacienda Restaurant, Somerville, dishwasher
First job in current field: Brooks Pharmacy, loss prevention dept., store detective
Hobbies: Traveling, fishing, snowboarding, kayaking, cycling, camping, hiking, Patriots, Red Sox, Bruins, Celtics and spending time with the family and dogs. 
Favorite novel: Mystic River
Favorite film: The Town
Person(s) you most admire (outside of family) High school shop teacher Ron Szpila
 If you had to choose a different profession, what would it be? If I had to choose a different profession I would have pursued a career as an attorney.
Keys to success:  My keys to success have been to have a purpose, know what you want. Have integrity in the things that you do. Have a plan, a vision, a dream, an idea.  Listen and take notes, document, be organized, believe in yourself, imagine. Have confidence. Dedication, honesty, commitment. Be responsive, be proactive, exceed expectations, provide exceptional service. Have solutions not excuses. Work together, teamwork. Love what you do have a desire to do it. Think outside the box and be creative. Learn and train. Help others to be successful. Share your success.
What your firm does now and its plans for the future? Founded in 2005 as a private investigations agency in the Bay State, New England Security roots itself in Boston. This past year New England Security is proud to announce that it has recently completed a real estate deal with the purchase of a three-story commercial office building with financing from Beverly Bank located in the City of Malden. Our new headquarters and home has allowed us to keep up with our growth and provide adequate space for our operations and leadership teams and our new state-of-the-art dispatch/command center.  While other security companies have merged, consolidated, downsized, or sold, New England Security is still owned and operated by the same team since its inception and is still true to our culture and mission to be a premium provider of professional, proactive protection.  
We rank as one of the largest most responsive regional security companies in New England.  We offer a well-trained, dedicated, and committed team  delivering exceptional security service. We  provide around the clock 24/7 protection of our clients property, people, and assets. From investigations, to armed and unarmed security officers, we provide property patrols and crime prevention services to clients in the retail market, real estate developments, condos, office buildings, apartment buildings, construction companies, and more. 
We offer a satisfaction guarantee on all of our services. One of our hallmark services is our patrol division. We use and utilize the latest and greatest in technology and patrol techniques and our future plans include improving our network and technology. In-addition to welcoming new clients to our portfolio, improving our business relationships and making new ones to not only meet our clients expectations, but to exceed them. We are looking forward to welcoming new members to our team and rolling out our new online training program and New England Security Training Academy. We are also looking forward to working with local smaller and medium sized security firms to improve relationships, networking, communication, training, and business practices.