Professional Profile: Denis Landry 2015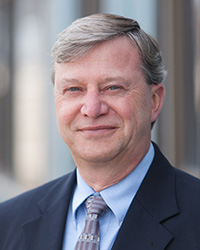 Denis Landry - 2015
Name: Denis Landry - 2015
Title: President
Company: Landry/French Construction Co.
Location: Scarborough, ME
Birthplace: Leewiston, ME
Family: Three Boys – Ben, Ryan, Brendan
College: Tampa Technical Institute
First job unrelated to your current field: Worked in a pharmacy
First job in current field: Corporate engineering department at New England Nuclear Corporation
What your firm does now and its plans for the future? Landry/French provides construction management, design/build, and general contracting services. Plans for the future include continued growth and expanding our client base by investing in our employees and providing great value and service to our clients.
Hobbies: Golf
Favorite novel: "Somewhere in Time"
Favorite film: "Where Eagles Dare"
Keys to success: Lead by example; hire talented people with great attitudes; client satisfaction.
Person(s) you most admire (outside of family)? Mahatma Gandi
If you had to choose a different profession, what would it be? Hospitality