Professional Profile: Derek Ezovski 2018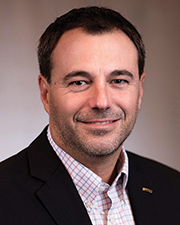 Derek Ezovski
Name: Derek Ezovski
Title: President
Company: Outsourced Risk Management Solutions
Location: West Hartford, CT
Birthplace: Woonsocket, RI
Education: MBA from the University of Connecticut, Worcester Polytechnic Institute, BS in Civil/Environmental
Associations: Risk Management Association (RMA); Independent Community Bankers of America (ICBA); State of Connecticut, Department of Banking; National Association of Government Guaranteed Lenders (NAGGL); Real Estate Finance Association (REFA), National Association of Development Companies (NADCO) and the Environmental Bankers Association (EBA).
What does your firm do?: ORMS helps lenders manage their property risk program by evaluating, developing, implementing and monitoring due diligence policies and procedures required by regulators for commercial real estate, all in the context of our client's risk tolerance.
Keys to success: Honesty, integrity, be candid and go the extra mile. Work to delight your clients while at the same time create a real business advantage for your company and theirs.
Favorite novel: "Confederacy of the Dunces"
Favorite film: "Field of Dreams"
Hobbies: Golf, basketball, traveling, and hockey
What did you do prior to founding ORMS?: Civil/environmental engineering, serving as managing director at Environmental Data Resources (EDR). My previous experience includes management positions with Marsh USA, where I was an insurance risk management professional.
FleetBoston, where I served as the environmental risk manager for the bank's Small Business Services Division; and Travelers, where, as an engineering manager, I helped resolve complex environmental cases.
What are some of your professional specialties?: Business Development, product development, environmental risk management, restructuring sales teams, network development, relationship management, motivation, strategic planning, public speaking