Professional Profile: Eduarda Romeiro-Alves 2018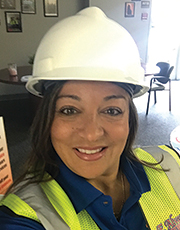 Eduarda Romeiro-Alves
Name: Eduarda Romeiro-Alves
Title: President
Company: E Alves Cleaning Service, Inc.
Location: 1191 Washington St., Stoughton, MA
Birthplace: Acores, Portugal
Association member/volunteer: Woman Owned Certified Business
What does your firm do and any plans for the future? E Alves' Cleaning Service (EAC) specializes in post construction cleaning. EAC has been servicing the construction industry since 2001. Our services include a tailored rough & final turn-key pass as well as exterior & interior professional window cleaning as well as an available day porter service. An EAC professional will maintain your building during business hours so your facility stays clean all day long with a tailored schedule for floor cleaning, restroom cleaning & restocking of paper supplies, removal of trash and spot window cleaning, etc.
Keys to success: Deliver only the highest quality work. Bring together the best experienced people, most effective methods, highest quality supplies and latest equipment.
Tell us about someone living or not who you admire: I admire my brother who started mowing lawns at 16 and now owns a multi-million dollar company through hard work and perseverance.
What types of projects do you have experience with? Unit Independent Living, Assisted Living Apartment Complexes, Industrial Buildings, Offices, Medical Office Buildings, and Retail Businesses such as Walmart and CVS.
Where do you see yourself in 10 years? Leading a very successful life in a business that I founded.
If you had to choose a different profession, what would it be? Owning a small piano bar / restaurant!
Favorite novel: Reading... Anna Karenina.
Favorite film: Twilight
Hobbies: Dancing / Music