Professional Profile: Elizabeth Krol 2020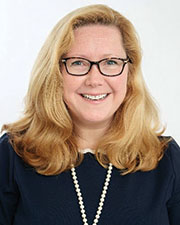 Elizabeth Krol
Name: Elizabeth Krol
Title: National Client Manager
Company: Partner Engineering & Science, Inc.
Location: Framingham, MA/Boston
Birthplace: New York, NY
Family: Husband Mike, son Michael, two daughters Lily and Amelia, black lab Bailey, large and loving extended family
College: Colgate University (BA in Geology), Lehigh University (MS in Geological Sciences), Suffolk University (MBA)
First job unrelated to your current field: I worked at the Amphenol manufacturing facility near my hometown in upstate New York, which taught me to respect the incredible challenges of factory work, including pressure on quality and timeliness for high volume production.
First job in current field: Environmental consultant at Clayton Group Services in Edison, NJ
What your firm does now and its plans for the future? Partner offers full-service engineering, environmental and energy consulting and design services throughout the Americas, Europe, and around the globe. Drawing on over 90 years of business experience, our multidisciplinary approach allows us to serve clients at all stages from initial due diligence and design to development and construction, as well as the ongoing maintenance and optimization of a real estate asset.
Hobbies: We are a family of geologists, so we love to hike mountains and explore the great outdoors, especially in Montana each summer.
I am also an avid reader, enjoy cooking with my daughters, and watching movies with our family.
Favorite novel: "Great Expectations" by Charles Dickens
Favorite film: The Godfather, because it was filmed in my father's childhood home where my parents and I were living at the time of filming. I was an infant and my parents enjoyed meeting many of the talented cast and crew.
Keys to success: My work has allowed me to match my passion for comprehensive, quality due diligence with my purpose of supporting key clients with their important real estate investments. My clients' priorities are my priorities. By collaborating with clients and becoming an integral part of their risk management team, I have created value without undue expense.
Person(s) you most admire (outside of family): The person that I most admire is Scott Freeman, Managing Director of FHR Capital, and previously Global Head of Portfolio Management of Colony Capital, Inc. (Colony). Working with Scott transformed me from a dedicated and technically focused geologist, to a skilled and nuanced trusted environmental consultant to my premier clients. He encouraged me to look at a transaction from his perspective, which helped me to be more proactive in my approach. Scott taught me to ask the questions that he wanted answers to from the outset of a project. He also advised me to start with the end point in mind, so there was a direct path from the start of the project to the conclusion, and no "science projects" or unnecessary detours along the way. Most importantly, Scott included me as a trusted advisor and contributor to the deal team. He helped her to understand how all professional commercial real estate disciplines (e.g., acquisition, asset management, finance, legal, insurance, risk management, and environmental) worked together to underwrite a transaction. Through his mentorship and sponsorship, Scott made me a better consultant, and not only was I better able to support him and his team, I became a larger contributor to our industry overall. I am fortunate that we continue to work together and collaborate on CRE transactions nationwide, and I will always be appreciative of the guidance that Scott provided to me.
If you had to choose a different profession, what would it be? I love what I do, so I would likely contribute to commercial real estate transactions as the owner/investor, or perhaps the attorney who helps to facilitate the deal.