Professional Profile: Hayden Bernstein 2019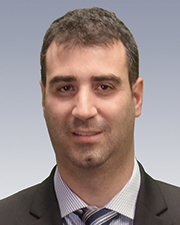 Hayden Bernstein
Name: Hayden Bernstein
Title: Real Estate Asset Manager, CT
Company: Olymbec USA
Location: Montreal, Canada
Birthplace: Montreal, Canada
Education: B.A. (McGill University), M.A. (McGill University), J.D. (University of Ottawa, School of Law)
What does your firm do and any plans for the future? We acquire value-add real estate assets in both Canada and the United States, primarily industrial and office buildings.
Keys to success: Conducting proper due diligence in each transaction and being able to rely on all of Olymbec's employees – each of whom are experts in their field.
Did you have a mentor if so who & why? If not tell us about someone living or not, you admire: I work everyday with my mentor in the commercial real estate business, Michael Matthews, Vice-President of Leasing for Olymbec Canada, who continues to teach me about the importance of integrity and hard work with every transaction I am involved in.
Where do you see yourself in 10 years? Assisting Olymbec in growing its global portfolio
If you had to choose a different profession, what would it be? Professional golfer.
Favorite novel: "Lord of the Flies" by William Golding
Favorite film: "A Time to Kill"
Hobbies: Travel, and spending time with my wife, Leah, and son, Benjamin.