Professional Profile: James DeStefano 1996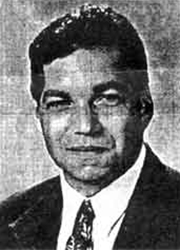 James DeStefano - 1996
Name: James DeStefano - 1996
Title: Sales Associate
Company: The Norwood Group, Inc.
Location: Bedford, N.H.
Birthplace: Portsmouth, 1964
High School/College Activities:
Portsmouth H.S., 1982; New Hampshire College, 1986
First job outside of real estate:
Making pizza pies
First job in real estate or allied field:
Director of Governmental Affairs, Nashua N.H. Board of Realtors
What do you do now and what are you planning for the future?
Brokerage, governmental relations, and real estate instructor. Future: Caribbean resort brokerage.
Last or favorite book:
"Primary Colors"
Last or favorite movie:
"The Godfather"
Person you most emulate (outside of family):
Stewart Lamprey
Key to success:
Verify who is holding on the phone line before picking up the receiver to speak.
If you were forced to choose another vocation, what would it be?
Small town sports writer