Professional Profile: James Donovan 1963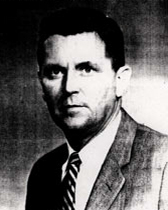 James Donovan - 1963
Name: James Donovan - 1963
Title: Manager of the Real Estate Department
Company: L. Grossman Sons, Inc.
Location: N/A
Birthplace: 1923 in Quincy, Mass.
James P. Donovan is the manager of the Real Estate Department of L. Grossmans Sons, Inc. Jim was born in 1923 in Quincy, Mass., where he now resides with his wife and two children. In 1940 he graduated from Boston College High School, going on to West Point where is graduated in 1945. "The competition on the football squad was rough in those days. Remember Blanchard and Davis? Besides, I didn't play football." After West Point, Jim spent four years as an officer in the Army. In 1949, he entered the business world as a construction engineer and superintendent for a number of firms around the Greater Boston area. In 1950 he became the superintendent of the Water Department for the city of Quincy. In January of 1954, Jim joined the Grossman organization as an executive trainee. As an organization, the Grossmans are very active in civil affairs. Jim is the director of the Quincy Tax Payers Association, a member of the Industrial Development Committee of Quincy, a member of the Chamber of Commerce and serves on the Legislative and Parking and Traffic Committee. He is also president of the Grossman Speaking Bureau. This group lectures on over 20 subjects and speaks to various organizations all over New England. Good looking with a warm smile, Jim has a well-rounded education in Industrial Real Estate and, with a solid organization to back him, these attributes spell the success of this young real estate personality.