Professional Profile: John DiNapoli 1988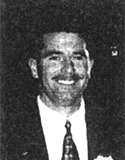 John DiNapoli - 1988
Name: John DiNapoli - 1988
Title: Vice president/commercial broker
Company: Equity Alliance Corp.
Location: 32 Elk Dr., Bedford, N.H.
Birthplace: Concord, N.H.
Family:
Divorced parent of triplets
High school/college activities:
Bishop Brady High School, UNH and New England College, Henniker, N.H. Student Senate, Varsity Ice Hockey and Baseball.
First job outside of real estate:
Sprague Electric, Concord, N.H., marketing and production.
First job in real estate or allied field:
Residential sales agent for Century 21 Mullaney
What do you do now and what are you planning for the future?
Continue to be a good parent to my children and enhance my knowledge in the field of commercial real estate consulting and brokerage.
Hobbies, likes, dislikes:
My children, ECAC Division I and II Ice Hockey Official, golf, outdoor activities. Dislikes: Fans who are clueless about the rules of the game.
Last or Favorite Book:
"Crazy Time" by Abigail Trafford
Key to success:
The ability to keep your mind open to suggestions and criticism.
If you were not successful in the business you are now in and were forced to choose another vocation, whether you are qualified or not, what would it be?
Agent for professional athletes.