Professional Profile: John Fowler 2017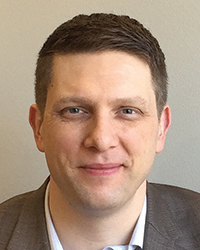 John Fowler
Name: John Fowler
Title: Associate Principal
Company: JACA Architects
Location: 9 Billings Rd., North Quincy, MA 02169
Birthplace: NA
Education: Bachelor of Architecture, Boston Architectural College
What does your firm do and any plans for the future: Founded in 1991, we are and continue to be one of New England's premier healthcare and life science architectural firms, focusing our practice exclusively in the field of healthcare and medical design.
Keys to success: Continually keeping pace with emerging technologies, master regulatory requirements, and client needs, focusing on creativity toward improving patient comfort and staff efficiency.
How long have you been in the A/E/C Industry: 21 years
Was this your chosen profession and why: Yes, architecture requires the combination of the arts and sciences in a complex way that not many other fields do. It requires an ability to balance and negotiate between multiple competing interests that are all valid. I enjoy the challenge of finding solutions to create that balance.
Are you a member of an association related to the CRE industry: AIA, BSA, USGBC, NCARB, and CHD
Favorite novel: The Fountainhead, I'm not a fan of Objectivism but it planted the seed in my mind about becoming an architect.
Favorite film: It's impossible to choose one "Apocalypse Now," "Memento," "Gladiator," "Inception," "Killing Zoe," and the "Star Wars" films.
Hobbies: Hiking, golf, and anything that gets me outdoors or visiting new places.