Professional Profile: John O'Donnell 2018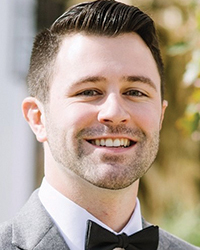 John O'Donnell
Name: John O'Donnell
Title: Property Manager
Company: Corcoran Management Company
Location: The Mastlight – 10 Patriot Parkway, Weymouth, MA 02190
Birthplace: Charlestown, MA
Education: Curry College, B.S.; Boston University, M.A.
CRE Industry Association member/volunteer: Executive councilor for IREM Boston Chapter 4, executive board member for IREM National for Student & Academic Outreach Advisory Board and Education & Knowledge Committee.
What does your firm do and any plans for the future?: The Mastlight is Corcoran's newest lease-up property in Weymouth, Mass.' Union Point development, boasting 265 luxury apartment homes and 14,000 s/f of retail. After opening in January 2018, we're 15% leased and on track for stabilized occupancy by Q4 2018.
Keys to success: I constantly evaluate competition in the real estate market and continue learning through graduate studies, industry credentials and classes, and networking.
Did you have a mentor if so who & why? If not tell us about someone living or not who you admire: My mentor, Brian Gallagher, CPM, portfolio director at Corcoran Management Co., has been an invaluable resource and friend throughout my career. I've worked for Brian in several capacities, including as a direct report, and I strive to emulate his management style with my own employees.
Where do you see yourself in 10 years?: My goal is to expand my portfolio to 2,000+ apartments and transition into a senior-level management role at CMC's corporate office.
If you had to choose a different profession, what would it be?: If I pursued another career, it would have been as a sports writer for a local newspaper. I'm a very passionate fan, so writing about sports wouldn't feel like work!
Favorite novel: "Pursuit of Honor" – Vince Flynn
Favorite film: "The Departed"
Hobbies: Golfing, traveling, volunteering