Professional Profile: Mark Dooling 2003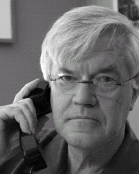 Mark Dooling - 2003
Name: Mark Dooling - 2003
Title: President
Company: Dooling & Company Architects, Inc.
Location: Newton, MA
Birthplace: Framingham, MA, 1939
Family:
Wife, Charlotte, four children and two grandchildren
College:
Catholic University in Washington, D.C.
First job outside of real estate or allied field:
Testing tubes in TV repair shop.
First job in real estate or allied field:
Summer, 1960, for Maginnis, Walsh & Kennedy Architects in Boston, MA.
What do you do now and what are you planning for the future?
Currently focused on retail (Stop & Shop and Piccadilly Pub) and housing. Looking forward to instigating more projects with developers in teams.
Hobbies:
Watercolors and sailing.
Favorite Book:
"An Imaginary Life" by David Malouf
Favorite Movie:
"Casablanca"
Person you most emulate:
Andy Rooney
Key to Success:
Speak impeccably, take nothing personally, make no assumptions and always do my best.
Person you most admire (outside of family):
Bill Gillitt, architect and John Singer Sargent, painter.
If you were forced to choose another vocation what would it be?
Teacher