Professional Profile: Mary Jo Olenick, AIA 2017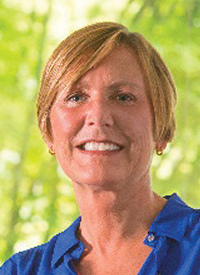 Mary Jo Olenick - 2017
Name: Mary Jo Olenick - 2017
Title: Principal
Company: The S/L/A/M Collaborative
Birthplace:
Education: Pennsylvania State University, BArch
What was your first position/job in the A/E/C Industry? Intern at DEW Architects, Hartford, CT
How did you arrive at your current position? As a Higher Education Programmer/Planner I was attracted to this role by my innate curiosity about ideas and people. Throughout the years, I have made the role my own and it has been pivotal in building the firm's higher education market.
Advice/Keys to success: Make whatever you are doing your own.
Bio: Olenick, AIA, is a principal, chief of strategic planning, and member of the board of directors of The S/L/A/M Collaborative.  She is dedicated to programming, planning, and design for colleges, universities, and academic medical centers and her projects range from collaborative teaching facilities and high-tech academic research centers to human-scaled, contextual residential complexes. She is a national leader in Outcomes-Based Planning and Programming, a unique metrics-oriented approach designed to help clients assess the value of complex outcomes (e.g. the ability to attract/retain highly qualified faculty, increase funding and enhance national reputation) in the early phases of pre-design and throughout the project. Mary Jo is a frequent speaker at national conferences, including SCUP and Tradeline, and she was the first "guest blogger" on design issues for The Chronicle of Higher Education.