Professional Profile: Matthew Zayotti 2009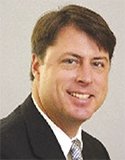 Matthew Zayotti - 2009
Name: Matthew Zayotti - 2009
Title: Partner
Company: Keegan Werlin LLP
Location: 265 Franklin St., Boston, MA
Birthplace: Boston, MA
Family:
Wife, Kimberly; two children
College:
Rollins College, BA, history; minor in economics; Suffolk University, JD
First job in law or allied field:
Bove & Charney, P.C., office assistant
What do you do now and what are you planning for the future?
I specialize in civil litigation, including, but not limited to handling disputes arising out of business and real estate transactions. As a partner and Keegan Werlin LLP, I represent clients in all phases of a matter, including the provision of pre-litigation advice, prosecuting and/or defending lawsuits, and achieving resolution of the matter through dispositive court rulings, alternative dispute resolution procedures, settlement negotiations and/or trial.
Hobbies:
Time with family, tennis, fishing and cooking
Favorite book:
Shogun by James Clavell
Favorite movie:
Down by Law
Person you most admire:
Charles Edmondson (college professor)
Key to success:
Work hard and do your best, success will follow
If you had to choose another vocation, what would it be?
College professor.