Professional Profile: Peter Bartash 2018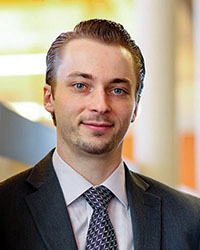 Peter Bartash
Name: Peter Bartash
Title: Associate Principal
Company: CUBE 3 Studio
Location: Lawrence, MA
Birthplace: Wallkill, NY
Education: M.Arch – Roger Williams University (Class of 2009)
What does your firm do and any plans for the future: CUBE 3 Studio is an architectural design studio currently with a large focus around the corporate, retail and academic sectors. We are opening a new office at 160 State St. in Boston!
Keys to success: Start your day with this question: What are my goals and what can I do today to move toward them? Be present and listen. If you're paying attention, people will tell you exactly what they need and spaces will tell you exactly what they want to become. Add value today – not tomorrow, or next week – right now. Being genuine is the key to building vital relationships that can accelerate your business. Lastly, meditate and/or practice mindfulness as a way to manage stress and provide the energy required for peak performance.
Tell us about someone living or not who you admire: Salim Najjar. His backstory is absolutely insane and he was recently a Forbes 30 under 30 nominee due in large part to the success of his growing company (Sound Tea).
Where do you see yourself in 10 years: Struggling with the newest technology/social media platform that everyone is raving about.
If you had to choose a different profession, what would it be: Touring musician
Favorite novel: Player Piano (Kurt Vonnegut)
Favorite film: Shawshank Redemption
Hobbies: Drums, travel, and French red wine