Professional Profile: Randall Luther 2019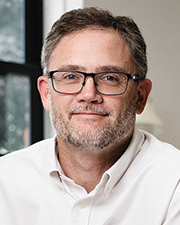 Randall Luther
Name: Randall Luther
Title: Partner
Company: TSKP STUDIO
Location: Hartford, CT & Boston, MA
Birthplace: Groton, CT
Education: Syracuse University BArch, MA; BA Mathematics
AEC Industry Associations member/volunteer: Middlesex Chamber of Commerce affordable house committee, member; American Institute of Architects; AIA Connecticut School Security Advisory Panel; Guest Juror – University of Hartford & Rhode Island School of Design; Capital Community College Advisory Board; Durham Field House Building Committee 2014 - 2015; Clinton Board of Education, Clinton, Connecticut 1990 – 1992; Clinton School Building Committee, Clinton, Connecticut 1988 – 1992.
What does your firm do and any plans for the future? Design of the built environment.
Keys to success: Attention to detail.
Did you have a mentor if so who & why? If not tell us about someone living or not who you admire: Early in my career it was Bill Moore at Roth & Moore Architects. Later, it was my partner Tai Soo Kim. Bill taught me the importance of detail, Tai Soo taught me everything else.
Where do you see yourself in 10 years? Winding down a little, to make room for the next generation.
If you had to choose a different profession, what would it be? Physicist
Favorite novel: "Ishmael" by Daniel Quinn
Favorite film: "The Last Samurai"
Hobbies: Coaching basketball and bonsai