Professional Profile: Rob May 2021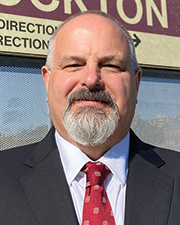 Rob May
Name: Rob May
Title: Director of Planning & Economic Development
Company: City of Brockton
Location: Brockton
Birthplace:
What should developers know about the process when working with your community? Brockton operates under an open-door policy that starts with the mayor Robert Sullivan and runs through every department in city hall. You are more than welcome, and we even encourage developers and end users to sit down with the mayor and key staff to ensure smooth sailing from concept to occupancy. Our formal technical review process ensures your project receives the attention it needs to be completed on time.
Are there any areas within your communities that you are looking to draw investment? Brockton has four federal Opportunity Zones, including two in and around downtown. Brockton is a hot investment target, especially downtown where the city has layered several state and federal incentive programs, one on top of the other, to create our famous Seven Layer Dip. Redevelopment opportunities are abundant. TOD sites can be found within a short walk of our three commuter rail stations. You can leverage one of our three hospitals for your next medical or lab project. Or you participate in DCAMM's upcoming disposition of a 6.7-acre site adjacent to Massasoit Community College located on Crescent St.
?Why should developers look to your town? Located 20 miles south of Boston, and 30 minutes from South Station by Commuter Rail, Brockton is the capital of Metro South. With three rail stations, two exits on Rte. 24, and a massive fiber optic backbone, Brockton is the perfect location for your next regional headquarters, transit oriented development, or back office operations.