Professional Profile: Sam Hill 2017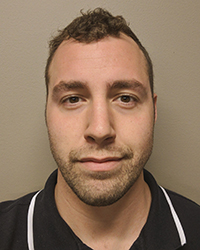 Sam Hill
Name: Sam Hill
Title: Director of Operations
Company: Solid Logic Ltd, ECOlogic Ltd
Location: 56 Roland St., Charlestown, Mass.
Birthplace: Boston
Family: Girlfriend Stephanie, and dog Beau (German Shepherd/Great Pyrenees)
College: Plymouth State University
First job unrelated to your current field: Cashier at a convenience store.
First job in current field: Cleaning my parent's kitchen as a child.
What your firm does now and its plans for the future: We are a commercial flooring restoration and maintenance expert providing routine care as well as solutions for damaged materials. We deliver safe methods to maintain and clean floors without the use of harsh chemistries. Our future plans include further developing our hard surface division, which includes polished concrete, Terrazzo, marble, other stones, vinyl composition tile (VCT), luxury vinyl tile (LVT), and ceramic tile, and continuing to grow our carpet and upholstery division.
Hobbies: Snowboarding
Favorite novel: "Fear and Loathing in Las Vegas"
Favorite film: "Sin City"
Keys to success: Hard work
Person you most admire (outside of family): Barak Obama
If you had to choose a different profession, what would it be?: Ski patrol