Professional Profile: Scott Donnelly 2003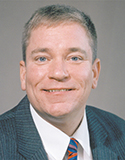 Scott Donnelly - 2003
Name: Scott Donnelly - 2003
Title: Director of Sales and Marketing
Company: Integrated Business Systems, Inc. (IBS)
Location: 81 Two Bridges Rd., Fairfield, NJ 07004
Birthplace: New York City, May, 1958
Family:
Married in 1991 to Suzette; 2 sons, John and Steven
College:
Pace University, BA in Managerial Accounting, 1980
First job in real estate or allied field:
ADP Real Estate Services
What do you do now and what are you planning for the future?
Managing overall IBS sales effort. I'm planning to continue to improve myself in all aspects so I can better guide my firm to higher levels of success.
Hobbies:
Sports, especially roller-blading and tennis
Favorite Movie:
"The Godfather" – Parts I and II
Person you most admire:
Paul McCartney
Key to success:
Clear Communication