Professional Profile: Sharon Jozokos 2020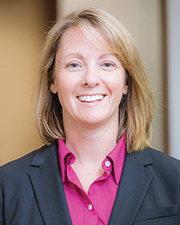 Sharon Jozokos
Name: Sharon Jozokos
Title: Vice President | Healthcare
Company: Columbia Construction
Location: 100 Riverpark Dr., North Reading, MA
Birthplace: Lowell, MA
Family: Married with two teenage boys
College: Wentworth Institute of Technology, B.S. Construction Management; Boston College, M.B.A.
First job unrelated to your current field: Fayva Shoes, store manager
First job in current field: William A. Berry & Son, assistant project manager
What your firm does now and its plans for the future? Columbia ranks in the top 10 of Massachusetts' largest construction management firms with projects that span the academic, corporate, healthcare, hospitality, life sciences, residential, and energy sectors.
Hobbies: Traveling and reading
Favorite novel: "The Bronze Horseman" by Paullina Simons
Favorite film: I love so many films, my favorites tend to be historical fiction.
Keys to success: Passion and drive
Person(s) you most admire (outside of family): Peter Campot, former COO/CEO of William A. Berry & Son, hired me in 1992 and had confidence in my potential, supported me throughout my career, and continues today to be a support and advocate.
If you had to choose a different profession, what would it be? I love what I do. The complexity of the projects and building within sensitive environments combined with the fact that they help the advancement of medicine and the delivery of quality care to patients makes working on healthcare projects incredibly gratifying.