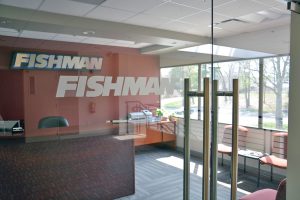 Andover, MA Jumbo Capital Management, LLC and Dacon Corporation recently completed a 48,000 s/f build out for Fishman Transducers at 3 Riverside Dr. This design-build interior improvement two-story project kicked-off in November of last year. At press time, Fishman was in the process of occupying the building.
The project was a gut renovation of the southern wing of 3 Riverside Dr. consisting of 8,000 s/f of office, 3,000 s/f of sound studios, a 2,000 s/f product display conference center, 16,500 s/f of electric bench assembly space with a small machine shop, 17,000 s/f of storage and a 1,500 s/f employee break room. Fishman is relocating from 6 Riverside Dr.
In addition to the build-out, Jumbo Capital replaced the entire HVAC equipment systems to the space and initiated a site and parking lot improvement package. Chris Lawrence of Jones Lang LaSalle represented both Fishman and Jumbo Capital in the lease.
Fishman Transducers designs and manufactures acoustic amplification products. The company offers solo performance systems, acoustic effects pedals, acoustic imaging technology products, acoustic amplifiers, acoustic guitar and instrument pickup systems, magnetic sound-hole pickup systems, onboard pickup and preamp systems, outboard preamps, and electric guitar products. It also operates an online store that offers acoustic accessories and parts; guitar picks and luggage tags; adhesives and mounts; bags and covers; clips and clamps; cables and power adapters; jacks and knobs; and replacement pickups.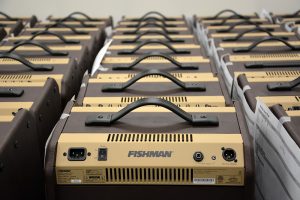 Jumbo Capital is a privately-held commercial real estate firm based in Quincy, Mass. Committed to providing exceptional real estate services to its investors, they work with all asset classes throughout the Greater Boston Area. With a wide range of focus on small to mid-sized real estate transactions in the Greater Boston area and experience in leveraging distressed and under-performing assets by investing in all levels of the capital stack, Jumbo aims to deliver consistent risk-adjusted returns to its investors.
Dacon is a Natick-based fully integrated design, engineering, and construction firm that provides single-source solutions to clients' most challenging facility requirements. Since 1985, Dacon has designed and built more than 22 million s/f, with a total value in excess of one billion dollars. Dacon has planned, designed, permitted, and built office, medical/life science, manufacturing, warehouse/distribution, and cold storage facilities throughout New England.