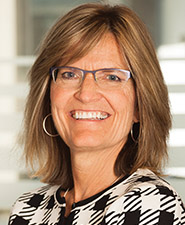 Boston, MA As Wilder, the retail real estate development, management, and leasing firm continues to grow its portfolio down the East Coast, Paige Quigley was promoted to vice president, asset management.
In this newly created position Quigley will lead the department in all facets of the department including the asset management team, property administration, and serving as liaison to clients and owners regarding property operations and finances.
A seasoned executive, Quigley joined the company in 2007 as part of the Flatley portfolio acquisition. Since that time, her property management responsibilities have expanded from covering Wilder's N.H. properties to her last role as senior asset manager where she oversaw a multi-state portfolio. In addition to her shopping center experience she brings extensive knowledge and insight to her position as a former business owner and economic development director.
"As Wilder actively pursues retail-based real estate investments through both acquisitions and management contracts we are simultaneously establishing our next generation of leaders to help us guide this growth," said Tom Wilder, principal.